This post may contain affiliate links. Read my disclosure policy.
Buffalo chicken sloppy sandwiches are the perfect game day food! Shredded chicken, swimming in tomato-based, homemade Buffalo sauce. Yep, they are sloppy, but oh, so delicious, too!
Game? What game? For the #SundaySupper crew, it's all about the food…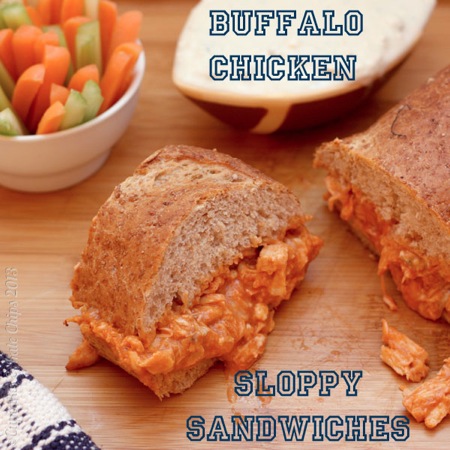 And when the food is this delicious, I bet you could even distract the biggest football fan. I mean, seriously, the gooey, cheese, spicy filling just dripping oozing out of this loaf of Italian bread. You totally have to get your Guy Fieri "haunch" working for this one. Of course, on Super Bowl Sunday, the messier the food, the better, right?! I mean, wings, nachos, pizza, pulled pork, chili. Not first date fare, for sure. But it tastes oh so good!
So enter the Buffalo chicken sloppy sandwich…
I remember reading awhile back about some sort of chicken wing shortage. Now, not being a wing person, I haven't really been looking for them in the store, so I don't know if this is really an issue, or if the the prices have totally skyrocketed, especially this weekend. But who needs 'em?! All that work to eat the teensiest morsel of meat. If you want your hot and spicy chicken fix, just slap together one of these babies. You'll be getting all that wing flavor, but you can take manly man bites, instead of sucking off of dainty little bones.
Serve it with some carrot and celery sticks and some of my Greek Yogurt Blue Cheese Dip (yes, I was totally dipping my sandwich because I love that stuff so much!), or even my Buffalo Bacon Blue Cheese Dip if you really want to turn up the heat. Super Bowl Party food perfection!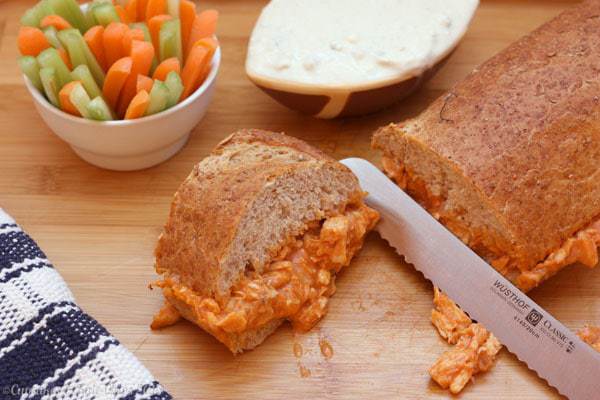 The coolest thing about my Buffalo Chicken Sloppy Sandwiches – you can throw them together in minutes and have enough to feed an entire offensive line.
And those are some big dudes. Well, I guess you would need one of these for each of them. But for us non-athletes, this sammie will feed a crowd. This is one of my go-tos when I have a lot of hungry bellies.
The second coolest thing – I have three other variations that you can make based on your taste buds and what you have in your pantry or fridge. Barbecue, Parmesan, and Salsa Chicken Sloppy Sandwiches. Plus, the chicken – doesn't matter what parts you use, or how it is cooked. Breasts or thighs from the grill or oven, poach them like I did, or tear apart a rotisserie bird from the grocery store. Whatever works best for you!
The third coolest thing – not only are these awesome for a Super Bowl party or any other big gathering, but they make awesome tailgating food. Assemble the Buffalo chicken sloppy sandwiches at home, wrap them in foil, then throw them on the grill when you arrive at the stadium parking lot.
And for my gluten free friends – stayed tuned on Tuesday for what I ate using this filling and Rudi's new line of softer and fluffier Gluten-Free Sandwich Breads. Trust me, it was so good that I wasn't even jealous of The Bug and The Hubby mowing down on this sandwich.
And speaking of The Bug mowing down, the Buffalo chicken sloppy sandwiches are totally Bug-Approved!!
Disclaimer: I went a little light on the hot sauce, which I think helped make it more palatable for him. Feel free to add to your heart's content.
Check out the #SundaySupper Pinterest board for more fabulous recipes and food photos! And remember to check out all of the other awesome dishes linked at the bottom of this post.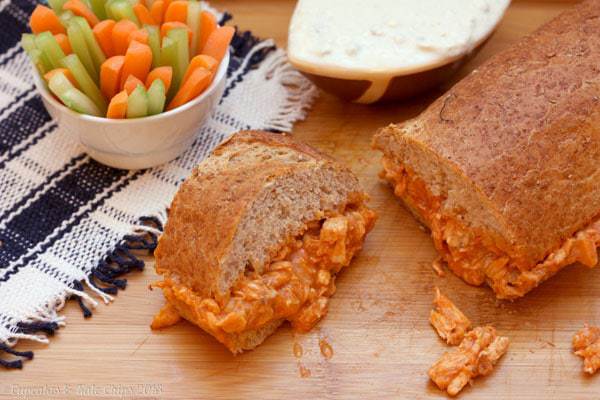 So let's have a vote – what is the Super Bowl all about to you: Football, food, commercials, or the half-time show?
How many Buffalo chicken sloppy sandwiches can you eat?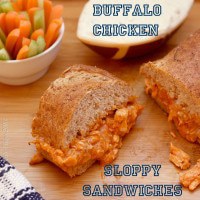 Buffalo Chicken Sloppy Sandwiches (and 3 variations)
All of your favorite Buffalo wing flavors in one sloppy sandwich that comes together in minutes and feeds a crowd. Try three simple variations on these Buffalo Chicken Sloppy Sandwiches!
Ingredients
8

ounces

plain tomato sauce

¼-½

cup

hot sauce

I used 1/4 cup and could have added more

1¼ – 1½

pounds

chicken

breasts and/or thighs, cooked and chopped, or about 4 cups cooked, chopped chicken from a whole or store-bought rotisserie chicken

1½

cups

monterey jack cheese

1/2

cup

crumbled blue cheese

1

pound

loaf Italian bread

I used whole wheat, but any will do

Optional: Blue cheese dressing

like this one or this spicier one for dipping.
Instructions
Preheat your oven to 350°F.

In a large bowl, mix the tomato sauce, hot sauce, and chicken.

Stir in the cheese until it is evenly distributed.

Slice open the loaf of bread lengthwise, and fill with the chicken mixture.

Wrap the sandwich tightly in aluminum foil.

Bake on a cookie sheet in the oven for 30-45 minutes, or until hot and gooey in the center.

Slice and serve.
Notes
You can prepare the filling in advance and/or the entire sandwich in advance. If your filling is cold from the refrigerator, you will need the longer cooking time.
If you want to prepare this on the grill, just wrap tightly in extra strength aluminum foil, and place on the grill until hot and melty.
For Parmesan Chicken:
Replace the tomato sauce and hot sauce with your favorite homemade or jarred pasta sauce (about 1-2 cups, depending on how saucy you want it), and the cheese with 2 c shredded mozzarella.
For Barbecue Chicken:
Replace the tomato sauce and hot sauce with your favorite homemade or bottled barbecue sauce (about 1-2 cups, depending on how saucy you want it), and the cheese with 2 c shredded cheddar and/or monterey jack.
For Salsa Chicken:
Replace the tomato sauce and hot sauce with your favorite homemade or jarred salsa (about 1-2 cups, depending on how saucy you want it), and the cheese with 2 c shredded cheddar and/or monterey jack and/or pepper jack.
Nutrition Facts
Buffalo Chicken Sloppy Sandwiches (and 3 variations)
Amount Per Serving
Calories 694
Calories from Fat 423
% Daily Value*
Fat 47g72%
Cholesterol 74mg25%
Sodium 1061mg44%
Potassium 445mg13%
Carbohydrates 42g14%
Protein 26g52%
Vitamin A 559IU11%
Vitamin C 11mg13%
Calcium 282mg28%
Iron 3mg17%
* Percent Daily Values are based on a 2000 calorie diet.
Categories:
Enjoy!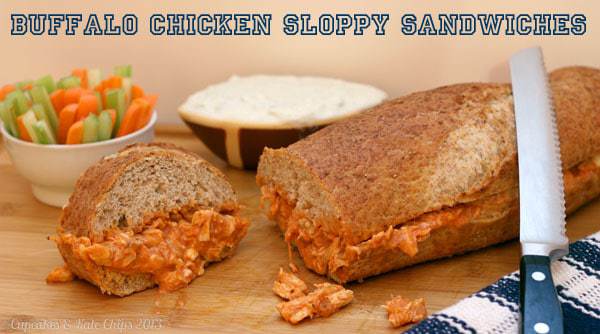 Check out this incredible spread from the #SundaySupper team! You know you want to come to our party!
In addition to my Buffalo chicken sloppy sandwiches, we have:
Appetizers & Snacks:
Main Dishes (including my Buffalo chicken sloppy sandwiches):
Bacon-Wrapped Chili Cheese Dogs from Damn Delicious
Buffalo Chicken Sloppy Sandwiches from Cupcakes & Kale Chips
Chicken in Passion Fruit Crunch from The Urban Mrs.
Green Chile Cheeseburgers from Juanita's Cocina
Grilled Pizza with Sausage and Spinach from Ruffles & Truffles
Marinated Rump Steak with Chimichurri Sliders from Vintage Kitchen Notes
Meatball Sub Sliders from Country Girl in the Village
Oven-Fried Catfish Fingers with Mango-Chili Dip from Pescetarian Journal
Pigs in Sleeping Bags from Comfy Cuisine
Turkey Sliders with Roasted Tomatoes from That Skinny Chick Can Bake
Vegan "Hamburger Helper" Soup from What Smells So Good?
Desserts:
#SundaySupper Super Bowl Tablescape: 10 Tips For A Winning Superbowl Buffet Table from An Appealing Plan
This recipe was shared with: Thursday's Treasures