This post may contain affiliate links. Read my disclosure policy.
Buffalo chicken grilled cheese will lift your ordinary grilled cheese sandwich to new heights! Shredded chicken, with a boost of heat from Buffalo sauce, lots of melted cheese, and of course, buttery toast for extra flavor. This isn't a sandwich, it's a meal!
Disclaimer: The author received a full-value coupon redeemable for Rudi's NEW Soft & Fluffy Gluten-Free Sandwich Bread, for recipe development and review purposes. All opinions are my own.
That's it. I no longer have grilled cheese envy…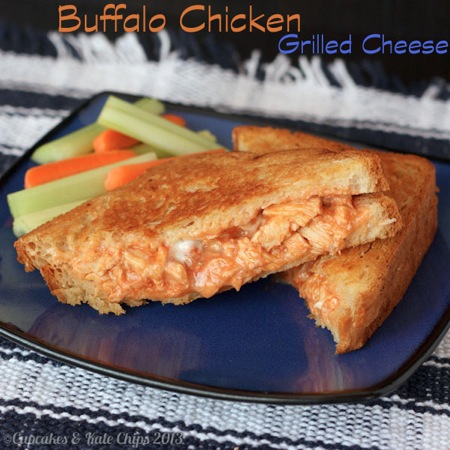 My mom use to make the butteriest, greasiest grilled cheese for me as a kid. You know, butter in the pan, bread slathered in mayo, two slices of individually wrapped American cheese between two slices of soft, white bread. When you picked it up, it flopped over because the bread could not support the weight of the cheese. Soooo good.
As an adult, I am definitely a bit more health conscious, using whole wheat bread, a lot less butter, or maybe just some olive oil. Then, enter my wheat allergy, and the need for gluten free bread, and the grilled cheese experience has never been the same. Until now…
You see, Rudi's Gluten-Free has launched a new line of softer and fluffier Gluten-Free Sandwich Breads. Yeah, sure, I used the old gluten free breads. They worked just fine for my Chicken & Broccoli Grilled Cheese, or Strawberry, Bacon & Havarti Grilled Cheese. Or I'd toast a slice and butter it up. And while they tasted just fine, they had the texture of, umm, to be perfectly honest…  a cork board. Kinda crumbly and stiff and almost spongy. Take a look at the photos in those recipes and you'll see what I mean. I never used them for just a plain, cold, turkey sandwich or PB&J. But this, well, just take a look at the texture…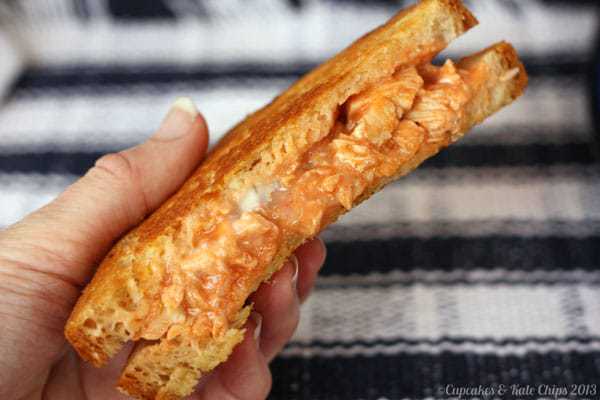 I was so surprised when I thawed my first slices that you could squeeze it and even bend it without it just flaking apart into pieces.
While The Hubby and The Bug eat Sloppy Sandwiches, I use some of my Buffalo chicken filling, making myself a fancy pants Buffalo chicken grilled cheese.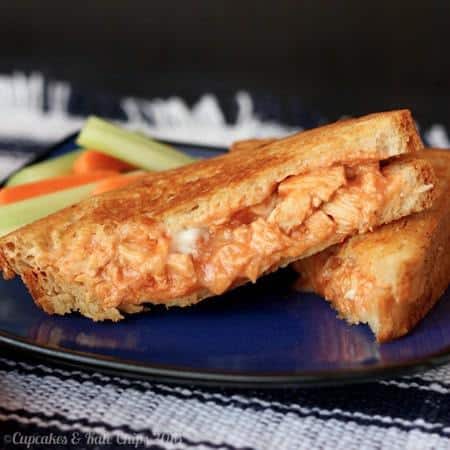 And then did the same for lunch the next day. Have I tempted you enough yet?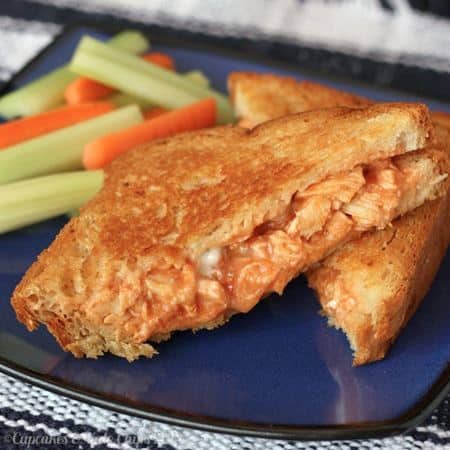 It is soft and chewy – so much closer to grilled cheeses of yesteryear! Heck, you don't even need to fill the new Rudi's Gluten Free Bread with all kinds of cheesy goodness and grill it up. I am happy to just slap some peanut butter on one for a nighttime snack.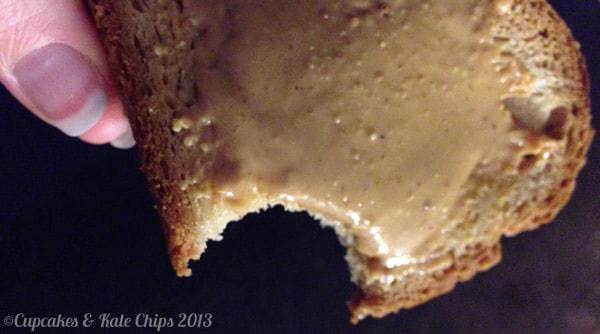 Once this baby is born and I no longer have the darn lunch meat restrictions (I'm sorry, but microwaved turkey just isn't the same), I will make myself a plain, old sammie!! And I can't wait to try the Multigrain and Cinnamon Raisin varieties. Mmmm, dreaming now of a post-Thanksgiving turkey sandwich with cranberry mayo on Cinnamon Raisin bread.
For all of my non-gluten free readers, well, you can just make the original Buffalo Chicken Sloppy Sandwiches, or put the filling between a couple of slices of your favorite sandwich bread. The Bug devoured this baby…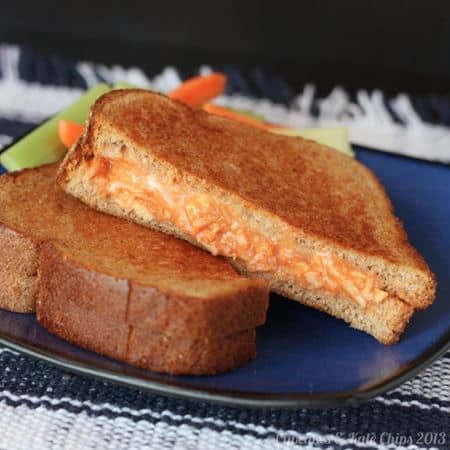 If you are gluten free, which variety are you most excited to try – Original, Multigrain, or Cinnamon Raisin? What is the first thing you are going to make with it?
Indulge in a meal worthy of grilled cheese goodness, by making Buffalo chicken grilled cheese!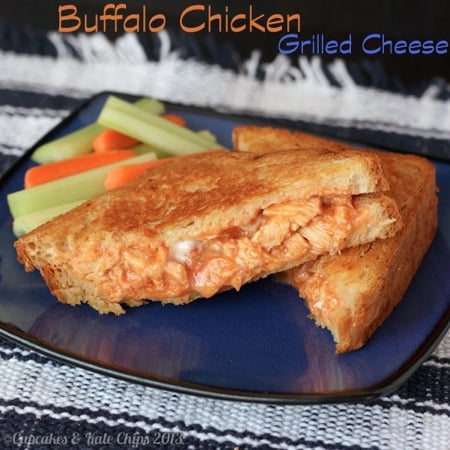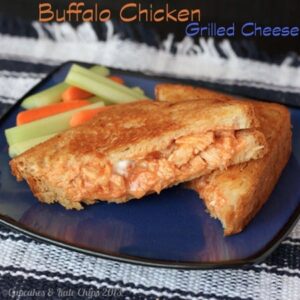 Buffalo Chicken Grilled Cheese
Your favorite wing flavor in an ooey, gooey grilled cheese. Make this Buffalo Chicken Grilled Cheese gluten free, too, with Rudi's Soft & Fluffy Gluten Free Bread. And, just FYI, Buffalo chicken sandwiches are great for lunch AND dinner!
Ingredients
For the filling:
8

ounces

plain tomato sauce

¼ – ½

cup

hot sauce

I used ¼ c and could have added more

1¼ – 1½

pounds

chicken

breasts and/or thighs, cooked and chopped, or about 4 cups cooked, chopped chicken from a whole or store-bought rotisserie chicken

1½

cup

monterey jack cheese

½

cup

crumbled blue cheese

if you can't tolerate blue cheese due to a gluten sensitivity, replace with additional monterey jack
For each sandwich:
2

slices

of your bread of choice

I used Rudi's Gluten Free Bread and whole wheat bread

2

teaspoons

softened butter or margarine

olive oil or cooking spray for pan
Instructions
For the filling:
In a large bowl, mix the tomato sauce, hot sauce, and chicken.

Stir in the cheese until it is evenly distributed.
For each sandwich:
Heat a pan over medium heat, and spray with olive oil or cooking spray.

Spread 1 t butter or margarine on each slice of bread.

Place about 1/2 c of the filling on the unbuttered side of one of the slices of bread. Top with the other slice of bread.

Cook the sandwiches for about 3-4 minutes per side, or until golden brown and the cheese has melted. Covering the pan with a lid during cooking will help the inside get all warm and gooey before the bread gets too browned.
Nutrition Facts
Buffalo Chicken Grilled Cheese
Amount Per Serving
Calories 497
Calories from Fat 333
% Daily Value*
Fat 37g57%
Cholesterol 127mg42%
Sodium 1282mg53%
Potassium 443mg13%
Carbohydrates 11g4%
Protein 31g62%
Vitamin A 1014IU20%
Vitamin C 17mg21%
Calcium 443mg44%
Iron 2mg11%
* Percent Daily Values are based on a 2000 calorie diet.
Categories:
Enjoy!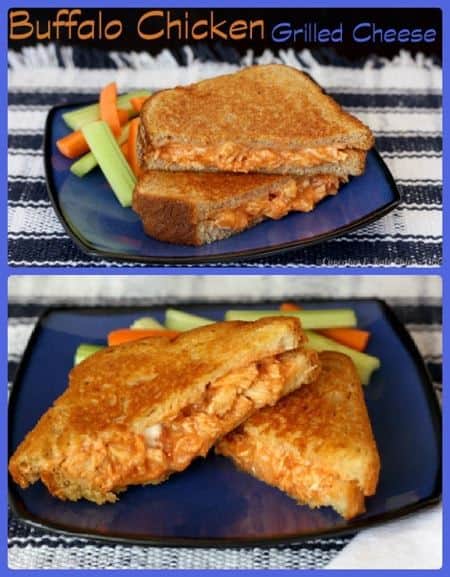 This recipe was shared with: Vegetarian Mamma's #glutenfreefridays#26, Thursday's Treasures