This post may contain affiliate links. Read my disclosure policy.
Crudite is a fancy French word meaning "raw vegetables". When fancy French raw veggies are filled with bacon, blue cheese, and a kick of hot sauce, a delicious appetizer or snack is born.
Do you ever see something that isn't there? But no matter how many times you look at it, that is all you see? I've sorta had that problem with bacon.
You see, every time I look at these Blue Cheese & Yogurt Cucumber Bites from Full Belly Sisters, I see bits of crumbled bacon on them. But nooo, that's not bacon. And although they sound delicious with the dried cranberries, I still felt I had to make them with bacon. Blame it on pregnancy protein cravings. And I needed hot sauce, because I was in the midst of my Buffalo everything obsession. Blame that on pregnancy, too. So I took that super yummy, protein and calcium packed Buffalo Bacon Blue Dip and made it all pretty by stuffing it into assorted raw veggies (I actually really liked the endive) to make some Buffalo Bacon Blue Crudite Bites. Sprinkle on some chopped chives, and it's all fancy pants, isn't it?!
So maybe you need a last minute appetizer for your Valentine's Day Dinner. You want fancy, refined, romantic. Your significant other prefers, well, buffalo, bacon, you know, man food, bar snacks, flavors that remind him of football season, now that it is over. Perfect compromise!
Or maybe you couldn't care one bit about Valentine's Day, and you just luuuurrvveee BACON! And want to make a bowlful of dip and smush it into some veggies and eat the entire thing yourself and not feel the least bit guilty because it has, like, no carbs and you are eating your veggies and it is made with Greek yogurt!! Not that this has ever happened to me.
Or start thinking ahead to next weekend – Oscar parties, right?!
Of course, I know that due to gluten allergies, or just some crazy, whacked out tastebuds (kidding) some of you may not eat blue cheese. Well, maybe some crumbled extra sharp cheddar or feta, or maybe even goat cheese would work in these, as well.
And speaking of the Full Belly Sisters, another recipe from their awesome blog is the basis for my Skinny #SundaySupper recipe this week. You see, after the past few months of cookies and holiday traditions and New Year's parties and bucket lists and retro food and Super Bowl snacks and Valentine's Day treats, we all felt we needed a little detox. So this week, it's time for the lighter side of #SundaySupper. There are still appetizers and main courses and desserts, and they are all still delicious, but maybe a bit on the lighter or healthier side.
Please tell me it's not just me – do you ever hallucinate about food? 🙂
If you plan to hallucinate, let it be about Buffalo bacon blue cheese crudite bites!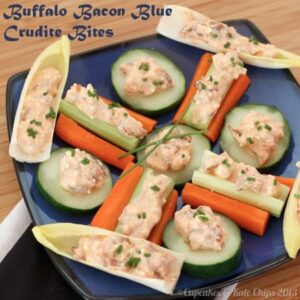 Buffalo Bacon Blue Cheese Crudite Bites
A healthy appetizer made with crunchy crudités (raw veggies) topped with spicy Buffalo dip made with bacon, blue cheese, and Greek yogurt.
Ingredients
Bacon Blue Cheese Buffalo Dip

(Recipe available here)

Assorted vegetables

like sliced cucumbers and carrots, endive leaves, and celery sticks

Chopped chives for garnish

optional
Instructions
Stuff celery sticks and endive leaves, and top cucumber and carrot slices with prepared dip.

Garnish with chopped chives, if desired.
Categories:
Enjoy!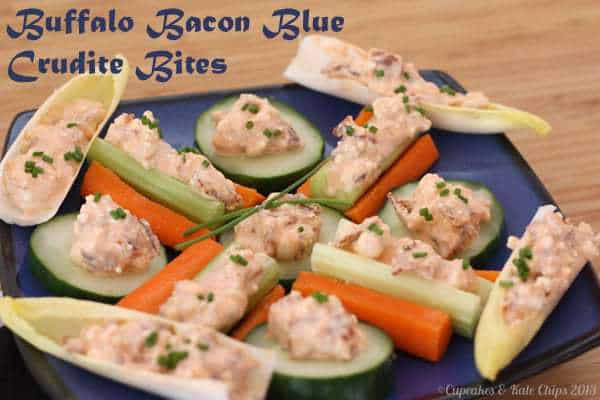 This recipe was shared with: The Slow Roasted Italian – Margarita Cocktail Link Party