This post may contain affiliate links. Read my disclosure policy.
When you are tired of the same old hummus dip, add the favorite ingredient combination of broccoli and cheese and at the same time pack in more protein and veggies. Your crackers and veggies, and especially your tastebuds will be so happy when you make Roasted Broccoli and Cheddar Cheese Hummus.
Roasted Broccoli and Cheddar Cheese Hummus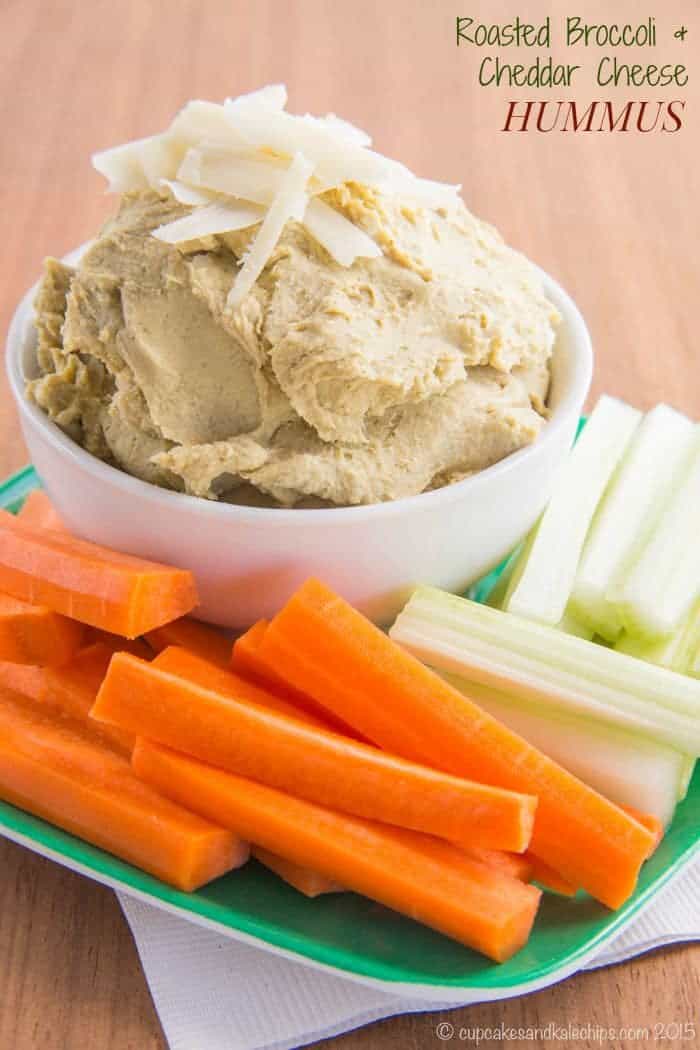 During the first couple weeks of Kindergarten, we had to survive a few morning meltdowns. They were usually different triggers, but all clearly related to me being the worst mommy ever because I did horrible things like put on Little Dude's shoes first or tell him there wasn't enough time to read the longest book he owns or not let him carry Daddy's old iPod to the bus stop to listen to the Star Wars theme song at full volume or, and this was the worst one, turn off the TV (the TV no longer goes on in the morning).
I am horrible, I tell you. Well, deep down I know that it was caused by a not unexpected difficulty with the big change in his life, and a bit of sadness with leaving mommy every morning for quite a long day.
So what did I do to help get him heading happily out the door every morning? Teach him to play "I Spy". This was simultaneously the most brilliant and most annoying thing I have ever done. You see, we have about a three block walk to the bus stop. The same three blocks every day. Both ways. And no other route that wouldn't take twice as long, which is not something you want to do with a 5 year old in the morning, lest he decide his legs are tired and he start dragging his butt, thus leading to missing the bus since we are basically the furthest house form the bus stop.
There's only so many things I can spy on this short walk. Grass, trees, fences, houses and yards that all look basically identical. And while I can be fairly creative with the clues – colors, shapes, first letter sounds – his 5 year old brain is not that advanced yet.
"Mommy, I spy with my little eye something that grows."
"Grass?" (That was Thursday's answer)
"No."
"Flowers?" (That was Tuesday's answer)
"No."
"Trees?" (That was Friday's answer)
"No."
"Bushes?"
"Yes, you got it!"
Every. Single. Day. But I go along with it because now we typically head out the door with smiles instead of tears. #MomWin
Well, when I had some leftovers to use up, I did spy something different in his lunchbox…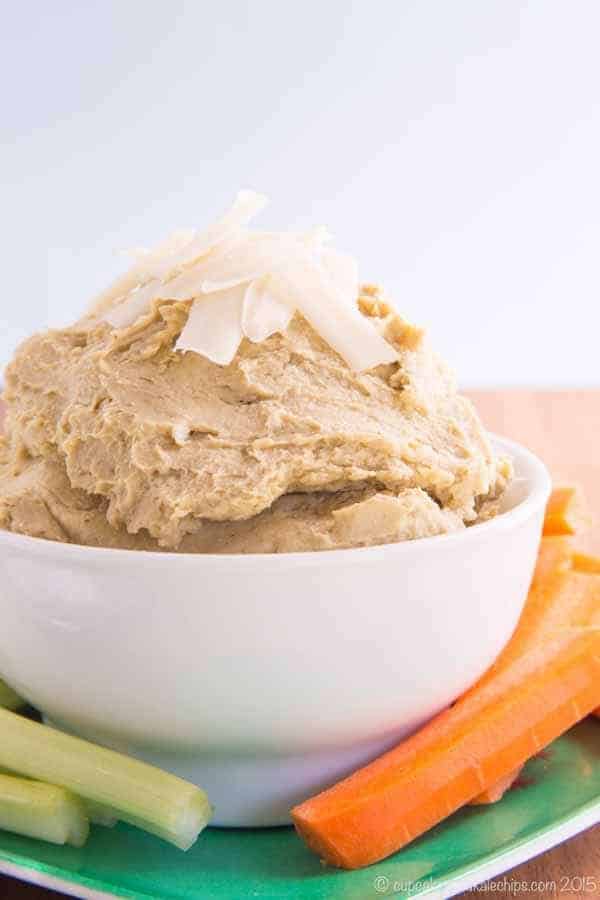 Roasted Broccoli and Cheddar Cheese Hummus was, quite honestly, a surprise hit. I had just a little leftover roasted broccoli (I made it like this, but omitted the lemon and parmesan) from dinner and bunch of cans of chickpeas (my hubby went into prepper mode at one point), so I figured I'd give it a try. I lived it, but what about the little guys? The Bug exclaimed, "It wasn't just good, it was amazing!", and when I told him what was in it, he replied, "I didn't taste all of that. All I tasted was all the deliciousness." Little Dude finished the sandwich I put it on, and he doesn't always finish his sandwiches. I'm calling it a win!
[Tweet "Broccoli Cheddar Hummus – you know it's good when a 5 year old tastes all the deliciousness!"]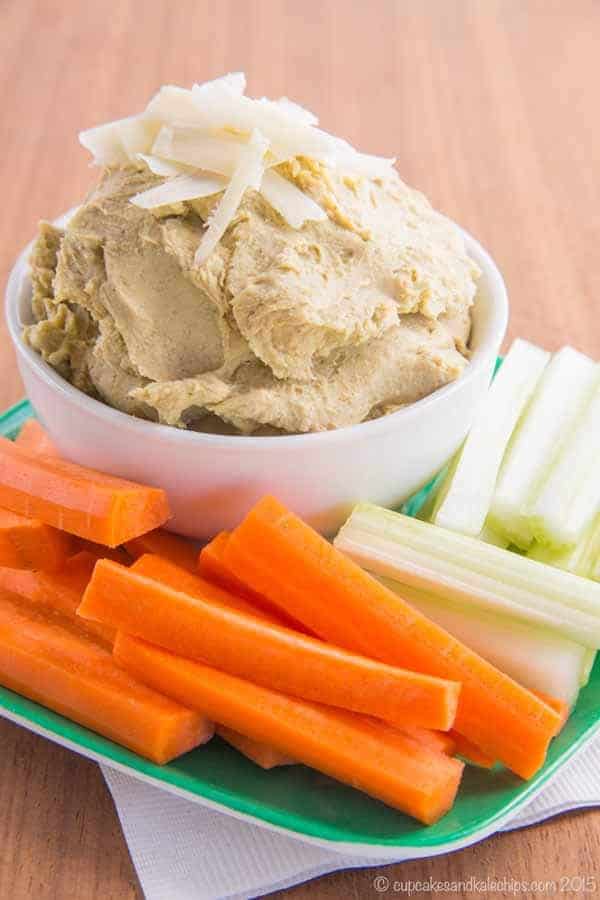 You can be certain this will be a new staple in the Bug's Lunchbox, especially since I make roasted broccoli all the time.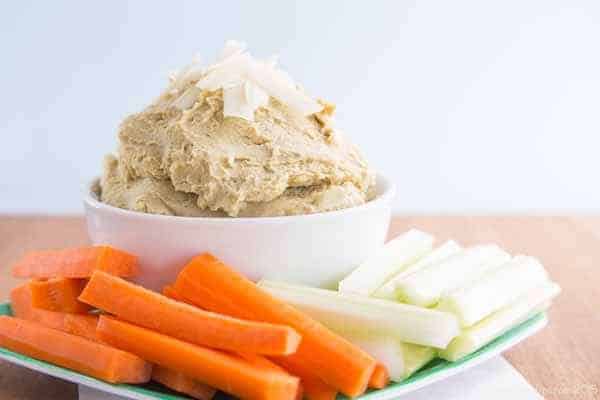 How do you get your kids out the door in the morning?
Alas, it's my last contributor post over at The Melrose Family, so make sure you head over to get the full recipe HERE!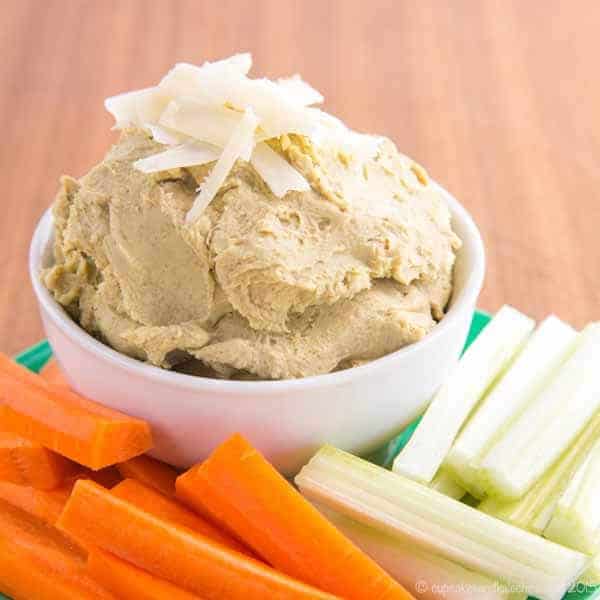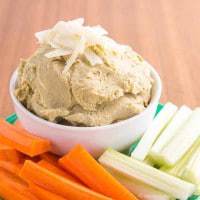 Roasted Broccoli and Cheddar Cheese Hummus
This homemade hummus recipe is a smooth and creamy, healthy dip with tons of protein and fiber, plus some sneaky veggies and plenty of cheese!
Ingredients
15

oz

chickpeas

1 can, rinsed and drained, reserving some of the liquid in case it is needed

1

cup

roasted broccoli

(I prepared mine like this, but without the lemon and parmesan)

1

cup

shredded sharp cheddar cheese

1-2

Tablespoons

reserved bean liquid

if needed

salt and pepper

to taste

Vegetables

chips and/or pita for dipping
Instructions
Combine the chickpeas, broccoli, and cheese in a food processor or blender, as a pinch of salt and pepper, and blend until smooth and creamy, adding a bit of the reserved bean liquid if needed to achieve your desired texture. Season to taste with additional salt and pepper, if needed.

Store in the refrigerator until serving.

Serve with vegetable, chips, and/or pita for dipping.
Nutrition Facts
Roasted Broccoli and Cheddar Cheese Hummus
Amount Per Serving
Calories 72
Calories from Fat 36
% Daily Value*
Fat 4g6%
Cholesterol 9mg3%
Sodium 163mg7%
Potassium 82mg2%
Carbohydrates 6g2%
Protein 4g8%
Vitamin A 147IU3%
Vitamin C 7mg8%
Calcium 83mg8%
Iron 1mg6%
* Percent Daily Values are based on a 2000 calorie diet.
Categories:
Here's some more broccoli and cheese yumminess…
Plus some from my friends…