This post may contain affiliate links. Read my disclosure policy.
Hi friends! I am very busy chilling poolside with a cocktail or lounging on the sand or frolicking in the waves in Virginia Beach. OK, truthfully I am probably carrying The Bug around the pool trying to teach him to swim, chasing him on the sand, trying to keep him from crying from the waves, or bathing him after he decides to use sand as shampoo for a "shower" on the beach. Oh, the joy of family vacations. But seriously, I am enjoying a little fun in the sun with the family, and taking a little blogging break. Though I am sure I will keep you updated via Facebook, Twitter, and Instagram on my inevitable excessive consumption of ice cream.
While I am away, I have some wonderful foodie friends keeping my kitchen cranking out some delicious eats & treats. Today I am happy to introduce Paula from Vintage Kitchen Notes. I met Paula through The #SundaySupper Movement. When I saw that Paula lives in Argentina, I was actually surprised because so many of her recipes look and sounds so familiar. She owns a cafe, which is so awesome, because that is one of my dreams. I am so happy she is sharing this awesome quesadilla. She mentions that she is not sure that it is kid-friendly, but The Bug would be all over this. She says her Spanish language blog doesn't get as much attention – the Spanish-speaking world is missing out 🙂 I hope you'll check out her blog, and stop by to see her on Twitter.
Enjoy! And thanks again, Paula!
******************************************************
Hey there, I´m Paula and I´m writing this guest post from Buenos Aires, the wonderful city where I live. I started my blog as an excuse for endless cooking and baking, not knowing what an incredible world of talented and friendly people I would discover. So much more than just recipes.
Here in Argentina, we have a strong Italian and Spanish heritage in the food we eat, and of course barbecues. But I wanted to do something different for this post, and since Brianne loves cheese, we´ll be making some delicious, spicy and crispy quesadillas. It´s hard to go wrong with quesadillas. A flour tortilla filled with layers of great ingredients, rolled and eaten with your hands. It doesn´t get much better, right?
A necessary ingredient here is cheese since it acts as glue, binding everything together. And I´ve yet to meet someone who doesn´t like cheese. The fillings for quesadillas tend to consist of few ingredients, so they should be chosen carefully and the better the quality the better the result. This is really a dish where the tortillas crisp, on a skillet or toaster oven, but the filling doesn´t cook, it just heats. Keep that in mind.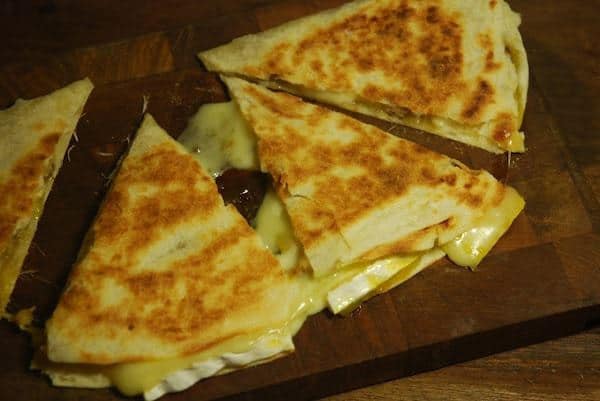 Today I combined my absolute favorite chutney which I started making a few months ago, soft brie cheese and toasted walnuts. Each bite is creamy, crunchy and spicy. The idea is to cut triangles with a pizza wheel or sharp knife, and eat them immediately.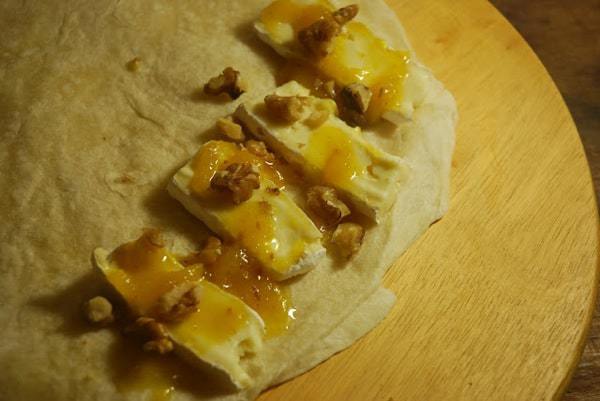 This particular combination of flavors is not very kid-friendly, so if you´re making some quesadillas for them use maybe some cheddar and roasted veggies. Or leftover chicken if they don´t want any green stuff on their plates. They´ll have a great time being forced to eat with their hands, and so will you.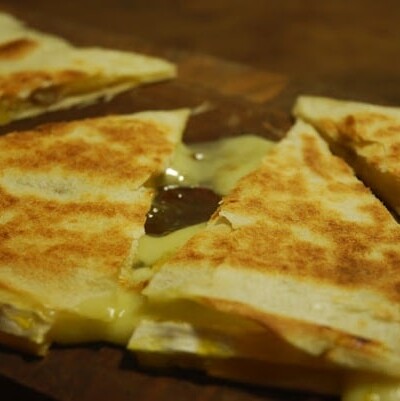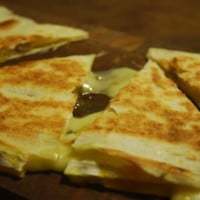 Brie, Mango Chutney, and Walnut Quesadillas
Ingredients
1

flour tortilla

½

cup

brie

cut into chunks

2 - 3

Tbs

mango chutney

2

Tbs

walnut pieces

toasted and very coarsely chopped
Instructions
Arrange tortilla on a flat surface. Place cheese on one half of tortilla.

Spread chutney on top of brie and scatter walnuts.

Fold the empty tortilla half over.

On a skillet over medium heat, cook quesadilla 2 – 3 minutes per side. You want to give the cheese time to start melting. The tortilla should be spotted and golden. Alternatively you can grill them in the toaster oven, careful not to burn them.

Cut into three or four triangles and serve immediately.

I like to eat them with some extra chutney slathered on top.
Notes
The recipe is for 1 quesadilla. I use big flour tortillas and fold them in half. I usually have homemade mango chutney in the fridge, but a good quality purchased one can be used.