This post may contain affiliate links. Read my disclosure policy.
This week, I am on vacation with my family in Vermont. I can't wait to tell you all about everything we do, and mainly about what we eat (I am predicting lots of Ben & Jerry's). If you want to keep up with my tasty travels in real time, keep an eye on Instagram and Facebook. But while I am away, I am leaving you in the hands of a few lovely ladies who all have different and delicious recipes to share with you.
Today's guest blogger is Robin from Knead to Cook. Robin is one of the first people I connected with on Facebook after I started my blog, and I always enjoy seeing her recipes pop up in my newsfeed everyday. First of all, she makes baked goods that look absolutely incredible, and she often makes them healthier by using Chobani Greek yogurt. But she has lots of other delicious recipes that are healthy, seasonal, and perfect for a busy family. In fact, I have been meaning to post this for awhile, but I made just a slight adaptation of her Slow Cooker Mongolian Beef a while back, and it was delicious. And speaking of busy, she makes me tired just reading about all of the running around she does with her girls. Robin has a true passion for life and for food, and she has the same philosophy as me about sharing love through sharing food.
Besides checking out her blog, you can also find her on Facebook and Twitter. So stop by, and tell her I sent you. And enjoy this tasty recipe. This buckle looks so good, and New Jersey blueberries are actually ready early this year, and already in stores, so I am all over anything with those little guys. Now I do stay away from wheat most of the time, but I am not sure I will be able to resist this recipe. Or maybe I will try to make a gluten-free version.
**********
Hi, my name is Robin and I'm so excited & happy that you stopped by. A little background on me… I'm married to my best friend and the man of my dreams for the past 15 years. Bill and I have two wonderful daughters that keep life very busy. We have two cats and one black lab – all rescued animals. I'm also a stay at home mom who rarely stays at home. Thankfully, I love to workout as much as I love to eat! Keeps me in check. I'm not a crazy calorie counter, dieter etc. I love to eat good food and I work out hard to keep myself in balance. I'm an Italian girl who grew up watching and eating whatever my grandmother & aunt cooked. My passion for food grew as I got older. I understood that food was more than just a vehicle to fueling the body – it was a way to connect with loved ones. I believe that when you cook with love, it comes through in the food and I know that people can sense that and of course, taste it as well. In life you must be passionate about what you do, otherwise, there is no sense in doing it.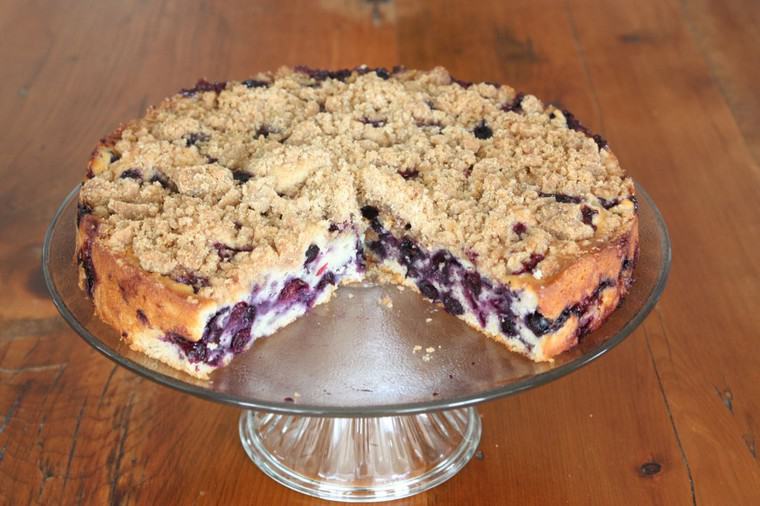 Oh this recipe is THAT good! Incredible. Moist. Delicious. I really need to stop typing and start eating.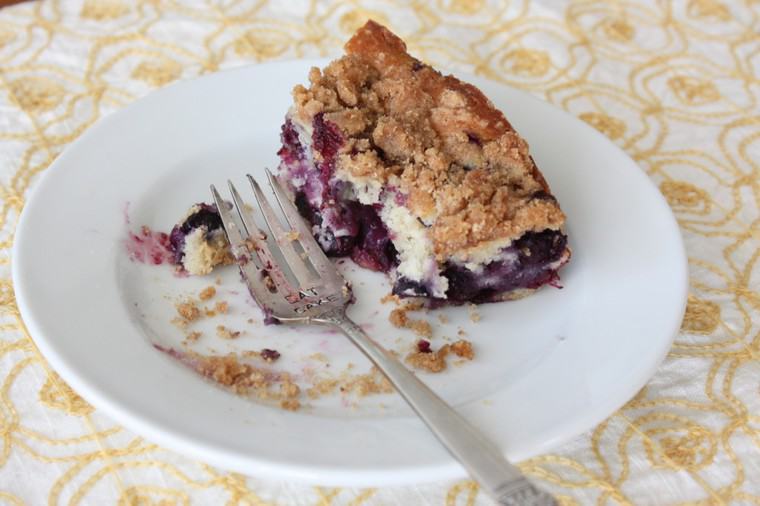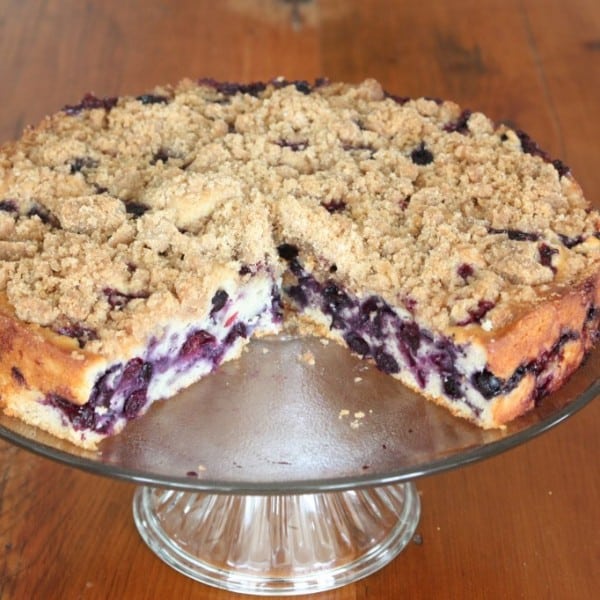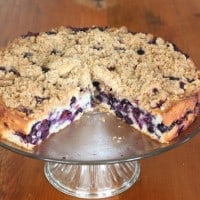 Blueberry Chobani Buckle - A Guest Post by Robin from Knead to Cook
Ingredients
For the Cake:
1 1/2

cups

of all-purpose flour

1 1/2

teaspoons

of baking powder

5

tablespoons

of butter

1 -6

oz.

container or blueberry Chobani yogurt

lemon, vanilla or plain would also work

2/3

cup

of granulated sugar

1/2

teaspoon

salt

Zest from one lemon

1

teaspoon

vanilla extract

2

eggs

room temperature

2

pints

of blueberries

washed and dusted with 2 tablespoons of flour so they don't sink in the cake.
For the Streusel topping:
1/2

cup

of all-purpose flour

1/2

cup

of light brown sugar

1

tablespoon

of granulated sugar

1

teaspoon

of ground cinnamon

1/8

teaspoon

salt

3

tablespoons

of butter cut into 6 pieces
Instructions
Directions for the cake:
Preheat the oven to 350 degrees.

Spray or grease and flour your 9 inch round pan. Set aside.

In a mixing bowl, whisk the flour and powder together.

In your stand mixer with the paddle attached, blend butter, Chobani, sugar, salt and the zest.

Scrape down the sides occasionally. Then add in the vanilla.

Add one egg at a time, blending well in between each addition.

Reduce the speed to the lowest setting and add the flour mixture.

Scrape down the sides and then mix one additional time.

Remove the bowl from the mixer and add, by hand, the blueberries. Mix to blend.

Pour into your prepared pan. The batter will be quite thick in its consistency.
Directions for Streusel:
In your stand mixer, paddle attached, beat the flour, sugars, cinnamon and salt on low.

Add the butter pieces and mix.

Top the cake mixture evenly.

Bake the cake for 55 minutes or until a toothpick inserted comes out clean.

Let cool and then slice.
Enjoy!