This post may contain affiliate links. Read my disclosure policy.
When you and the kids are curled up on the couch watching a movie, you need snacks. But you can still have movie night munchies that are a little healthier and give you the crunch you crave with just a bit of white chocolate indulgence, like this Very Berry Frosted Cheerios & Popcorn Snack Mix.
Very Berry Frosted Cheerios & Popcorn Snack Mix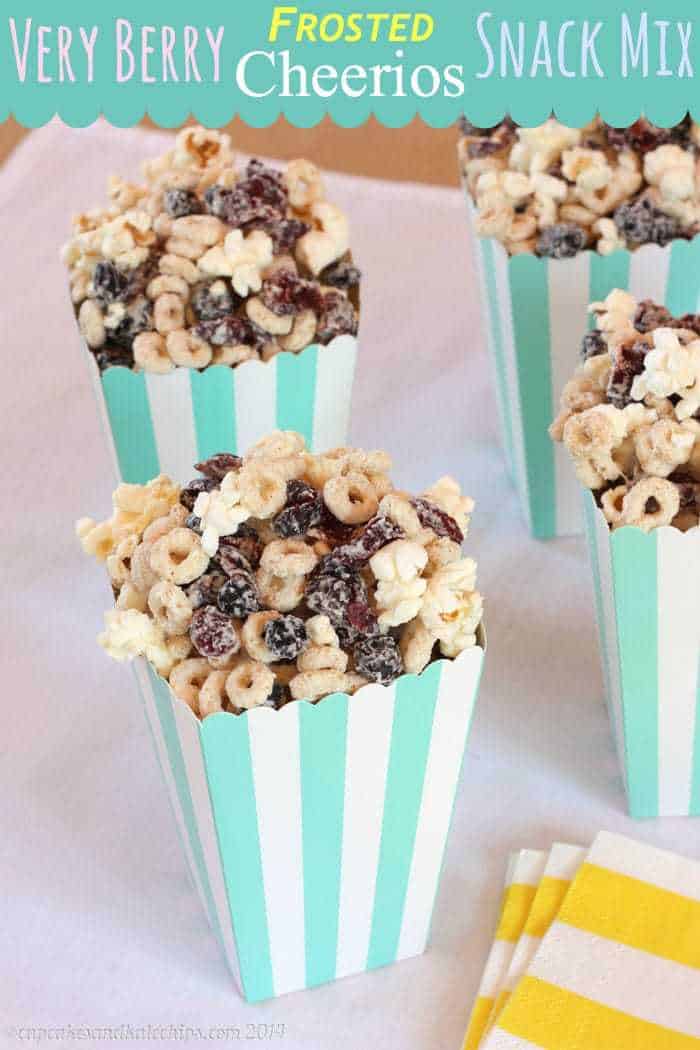 Disclaimer: This post is sponsored by General Mills, who provided the product and materials for this recipe and giveaway. I was compensated for writing this post. As always, all opinions are my own.
It's July, so I think we have officially reached the Dog Days of Summer. The days where even after the sun sets, it's still blistering outside, and the heat and activity that summer brings has you so exhausted that all you want to do is curls up on the couch in the air-conditioning, nibble on something tasty, and watch a movie. Or if you are like us, that time comes at about 1 or 2 in the afternoon. I'm sure in a few years, we'll be having lots of Family Movie Nights, but for now, we opt for the Family Movie Afternoon!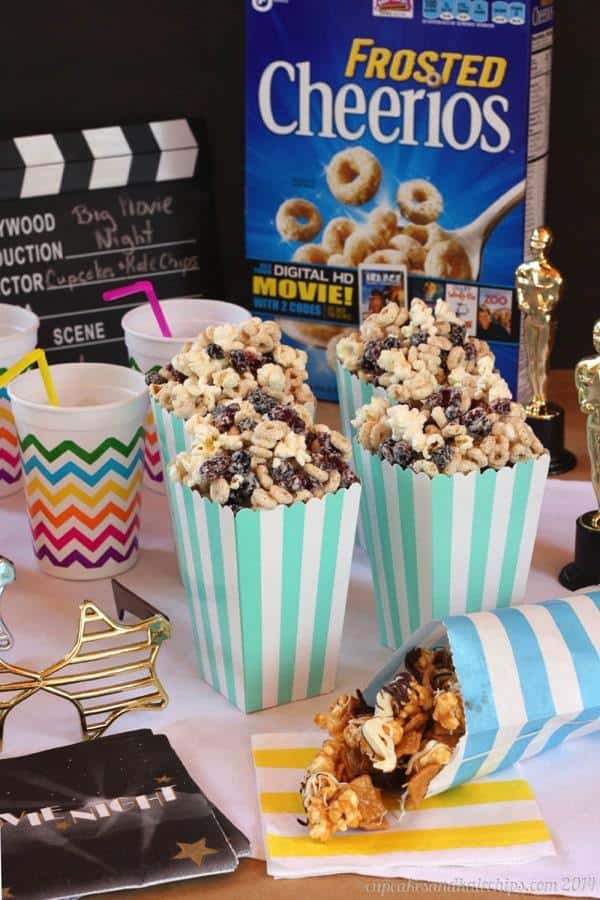 I have two boys who DO NOT STOP. EVER. Unless they are asleep or watching a movie. And, to tell you the truth, the big one doesn't nap and the little one doesn't watch movies yet. So if they've been running around all morning in the hot sun, let's just say a late night to watch a movie isn't gonna happen. By then, these boys are (finally) ready to crash! But after lunchtime, well, the little one only stops because he does go down for his nap, and the big one and mommy need a little downtime. So with some snacks and other fun stuff from General Mills Big G cereals, I was all prepared for some movie watching fun on one of those lazy, hazy days.
Make sure you keep reading so that you can win your own Movie Night Gift Pack!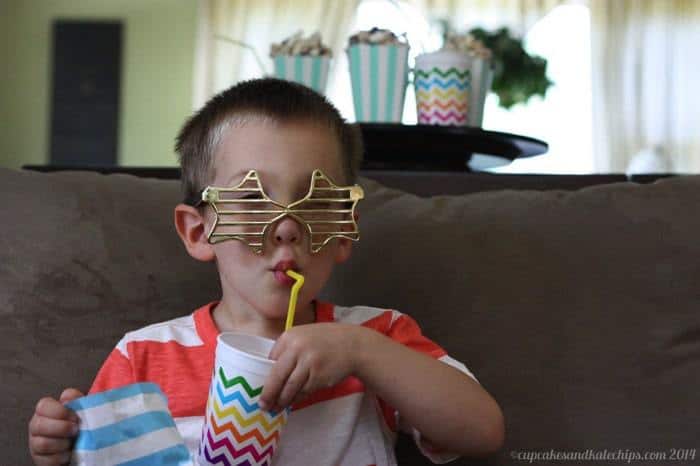 You see, whether it's a family movie night, a slumber party with all of your kids' friends, or, like us, a steamy afternoon where you just need to take a break from the sun, General Mills Big G cereals is helping you host your own movie party. This summer, specially marked boxes of General Mills Big G cereals will include codes to download a free movie. Two codes are needed per movie, and you can choose any of these awesome movies: Ice Age: Dawn of the Dinosaurs, Diary of a Wimpy Kid, Night at the Museum, Anastasia, Home Alone 2, Marmaduke, Dr. Dolittle, We Bought a Zoo, Mr. Poppers Penguins.
Once the movie is selected and downloaded, it can be watched on any compatible device: Smartphone, Smart TV, tablet or computer. And the best part is, you own it, which means your kids can watch it over and over and over and over…
Only guessing my kid is not the only one who does that 🙂

And of course when you make movie snacks using General Mills Big G cereals, your kids are happy to be munching on something they love, and you can be happy knowing that all General Mills Big G cereals have whole grain as the first ingredient and no HFCS. One you might like to try is this Very Berry Frosted Cheerios & Popcorn Snack Mix.
The Bug and I were disagreeing over which movie to watch. He wanted Ice Age: Dawn of the Dinosaurs, and I was pulling for Mr. Popper's Penguins. Of course he won, but really, I think we both won because our frosty selections inspired my recipe for Very Berry Frosted Cheerios & Popcorn Snack Mix. Crunchy Cheerios (I used Frosted Cheerios, but really any kind you love or have on hand will work), munchy popcorn, and chewy dried berries, all coated in a thin layer of white chocolate for just the right amount of sweetness make this a poppable snack that little fingers and big fingers alike will enjoy digging into!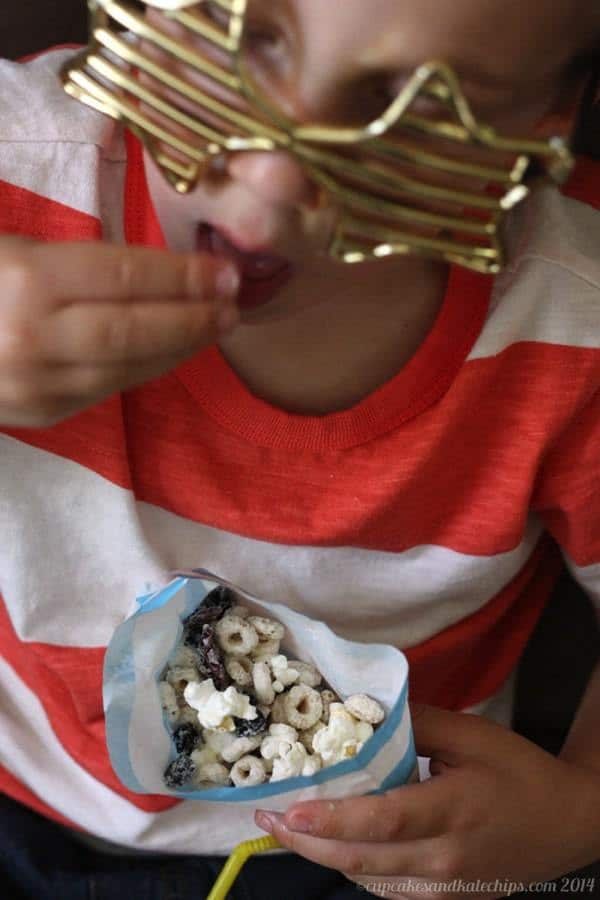 And really, you don't need to be watching a movie to enjoy this snack. It's perfect for lunch boxes, road trips, or just general snackiness!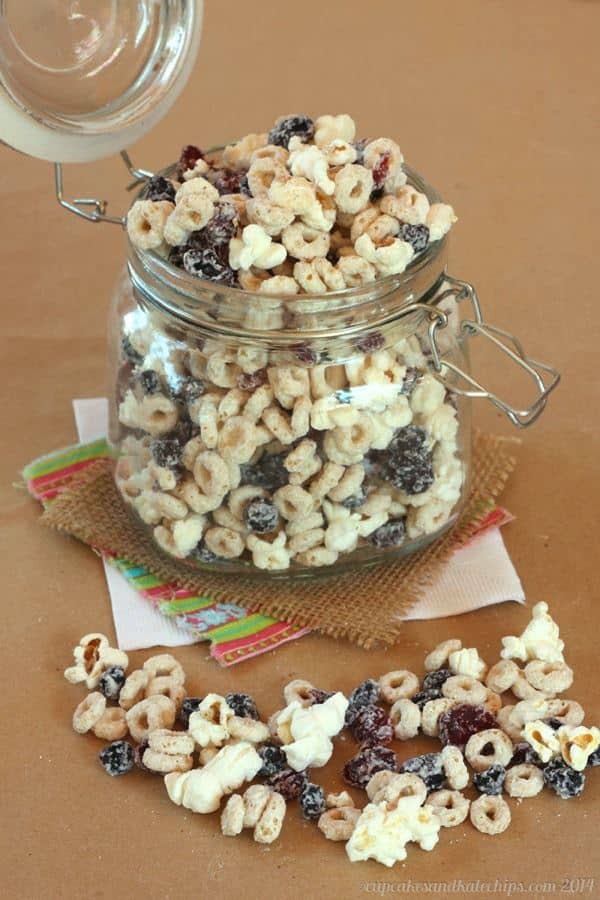 Do you want to have a Movie Night (or Afternoon) of your own? You can pick up one of those specially marked General Mills Big G cereal boxes to get your own movie download codes and create your own party, or you could enter to win a Movie Night Pack ($50 retail value) which includes a free movie download. Giveaway is open to U.S. residents 18 and over, and you have until 11:59 pm on Monday, July 14, 2014 to enter!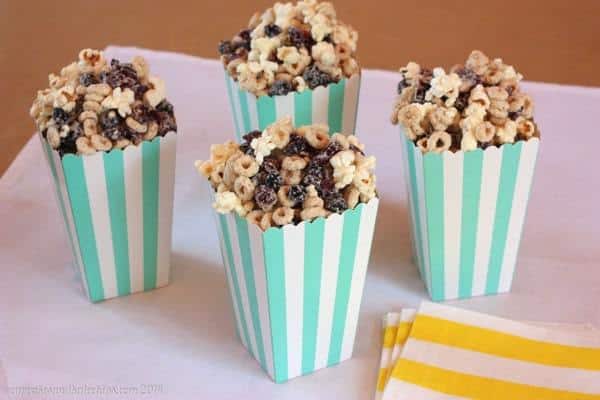 Which of the available movies would you choose for your Movie Night?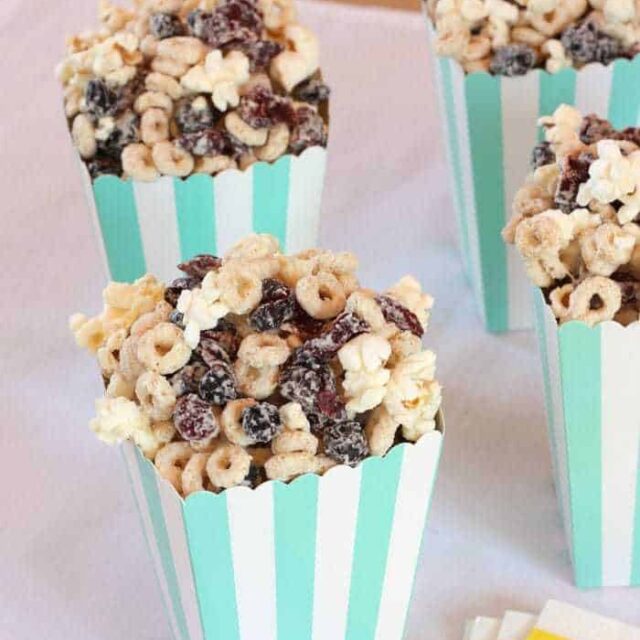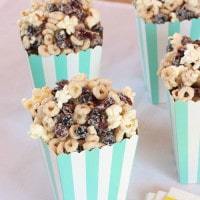 Very Berry Cheerios Popcorn Snack Mix
This healthier version of a movie night snack mix has the popcorn crunch you crave and just a bit of white chocolate indulgence!
Ingredients
2

cups

of your favorite variety of Cheerios cereal

I used Frosted Cheerios

2

cups

plain popped popcorn

1

cup

dried blueberries and/or cranberries

1/2

cup

white chocolate chips
Instructions
Line a large sheet pan with a silicone baking sheet or wax paper.

Combine the Cheerios, popcorn, and dried blueberries and/or cranberries in a large bowl.

Melt the chocolate in a double boiler over low heat, or in the microwave at 50% power, stirring every 15-30 seconds until smooth.

Pour the chocolate over the cereal mixture and toss gently until evenly coated.

Spread onto the prepared sheet pan and let set until cooled and the chocolate has hardened.

Store in an airtight container.
Enjoy!
Want some more movie snacks?
And here are some from my friends…
No Nuts and Bolts from Noshing With The Nolands
Samoas Chex Mix from i heart eating
Peanut Butter Cashew Popcorn from Julies Eats & Treats