This post may contain affiliate links. Read my disclosure policy.
Sometimes I feel like a disappointment to my gender…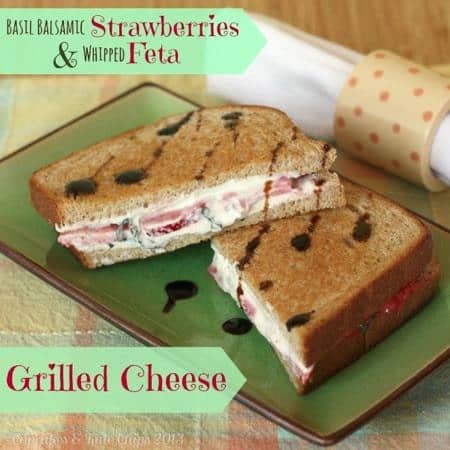 <
span id="more-4037″>
And it has nothing to do with this amazing Basil Balsamic Strawberries & Whipped Feta Grilled Cheese Sandwich.
What I mean is that I don't like cheesecake. Doesn't every woman LOOOVVEE cheesecake? Aren't we all supposed to think we've died and gone to heaven as we gaze into the dessert case at The Cheesecake Factory? I don't. I like cheesecake-flavored things, I like those no-bake, faux-cheesecake tasting things, I like stuff with cheesecake swirl. But a big, dense hunk of cheesecake – not my thing.
I don't like chocolate cake too much, either. Chocolates, yes. Chocolate pie, absolutely. Chocolate cake – not so much. I know! Who am I? Lovely golden cakes or strawberry shortcakes or carrot cakes – I'm all over those. But sadly, as you probably know by now, these days, at least until baby is born, no cake for me.
So this week's Cheese, Cake & Cheesecake #SundaySupper left me with cheese. Mmmmm, CHEESE! I am all about cheese. Goat cheese, blue cheese, cheddar cheese, monterey jack cheese, parmesan cheese, mozzarella cheese, cream cheese.
I saw this Whipped Feta from Jessica at How Sweet It Is, and I had to make it, though I used a combo of Greek yogurt and regular cream cheese, versus her whipped cream cheese, because that's what I had. And then I had to turn it into another fancy pants grilled cheese! Helloooo cheesy #SundaySupper!
OK, I know I've done strawberries in grilled cheese before, but I just love strawberries and feta. Throw in a little balsamic vinegar and basil, and it was a perfect combination of sweet and salty, with amazing creaminess that just oozed perfectly as you sunk your teeth into the sandwich. A finger-licking kind of sandwich! And, to have that contrasting crispy texture, instead of buttering up the bread and potentially making it soggy with all the gooey whipped feta inside, I just sprayed the outside of the bread with olive oil. Perfect!!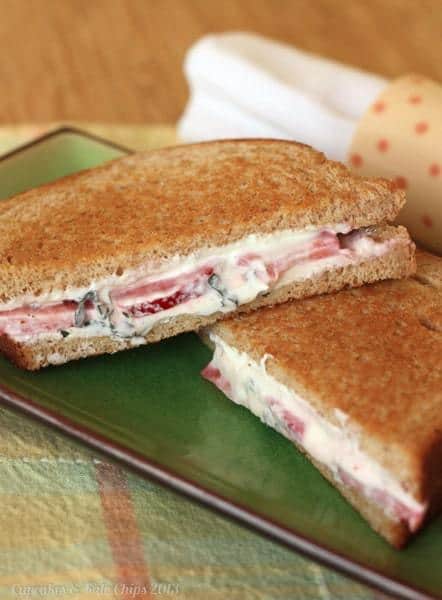 Then, just to put it over the top, drizzle with some thick, syrupy aged balsamic, and WOW!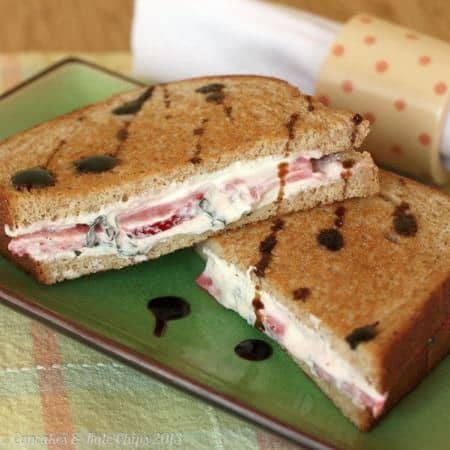 Totally Bug- and Hubby-approved. Well, The Bug had to pick out the basil, because anything green and leafy is totally offensive to him. But gooey cheese and strawberries – he is all over that!
And of course I had to make some for myself on my Rudi's Gluten-Free new line of softer and fluffier Gluten-Free Sandwich Breads… for dinner… and for lunch. Yep, I did it!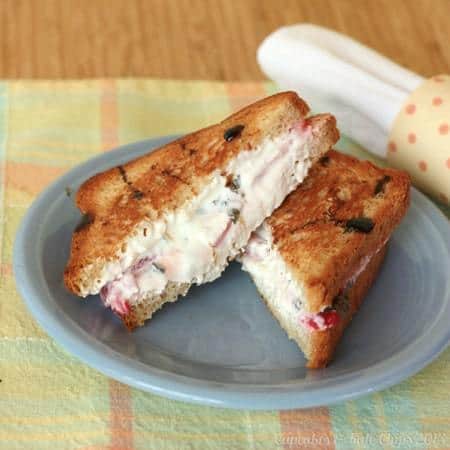 Join the #SundaySupper conversation on twitter each Sunday.
We tweet throughout the day and share recipes from all over the world. This week we will be sharing our love of Cheese, Cakes AND Cheesecakes! Our weekly chat starts at 7:00 pm EST!
Follow the
#SundaySupper
hash tag and remember to include it in your tweets to join in the chat. Check out our
#SundaySupper Pinterest board
for more fabulous recipes and food photos.
And check out all of the awesome Cheese, Cake and Cheesecake Recipes at the bottom of this post!
So if you could only eat one of the following for the rest of your life, which would it be – cheese, cake, or cheesecake?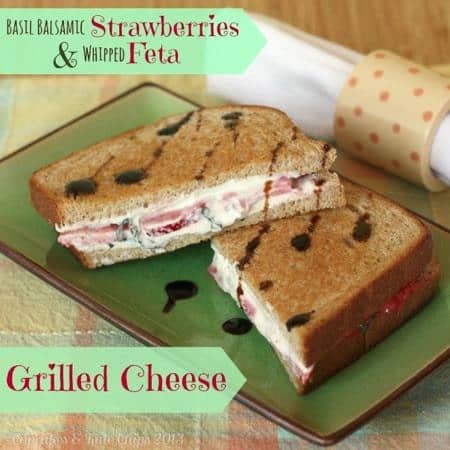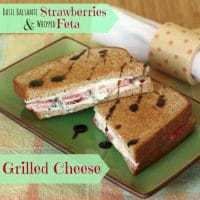 Basil Balsamic Strawberries & Whipped Feta Grilled Cheese for #SundaySupper
Creamy & crispy, sweet & salty, tangy & tart, simple & sophisticated - this Basil Balsamic Strawberries & Whipped Feta Grilled Cheese has it all.
Ingredients
For the Whipped Feta:
8

oz.

feta cheese

2

oz.

cream cheese

I used light cream cheese

2

T

Greek yogurt

I used Chobani 0% Plain
For the Grilled Cheese:
1

c

sliced strawberries

1

T

balsamic vinegar

2

T

basil cut into a chiffonade

fine ribbons

8

slices

of your bread of choice

I used whole wheat and Rudi's Gluten-Free Sandwich Breads

Whipped Feta

olive oil in a spray bottle

Aged balsamic vinegar

or regular balsamic vinegar that has been reduced to a syrup (optional, but soooo delicious)
Instructions
For the Whipped Feta:
Crumble the feta into a food processor, then pulse until crumbly.

Add the cream cheese and Greek yogurt, and process for several minutes, until smooth and creamy.

Place in the refrigerator to firm up slightly before making the grilled cheese.
For the Grilled Cheese:
Combine the strawberries, balsamic vinegar, basil, and pepper in a small bowl, and allow to sit for at least 15 minutes.

Spread 2-3 T of the whipped feta on each of the eight slices of bread.

Divide the strawberry mixture between four of the slices of bread, and top each one with one of the slices that just has cheese.

Heat a large pan over high heat, and coat with the olive oil spray.

Place the sandwiches in the pan, spray the tops with olive oil, cover, and reduce heat to medium. Cook for 2-3 minutes, or until bread is golden brown.

Uncover, flip sandwiches, and cook for an additional 2-3 minutes, until second side is golden brown and cheese is melted.

Drizzle with aged balsamic, or balsamic reduction, if desired (Do this! Trust me!)

Let sit for a minute or two before cutting.
Enjoy!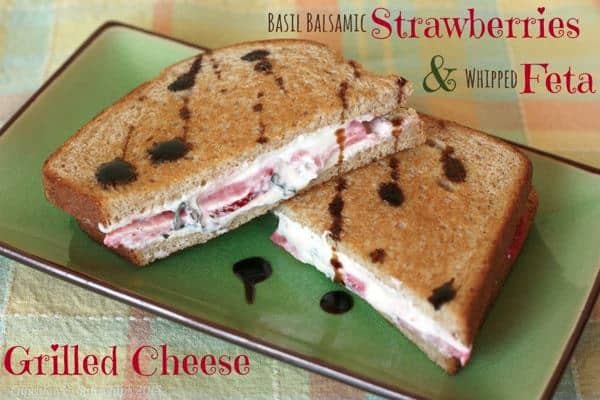 Look at all of these savory cheese dishes, wonderful cakes and amazing cheesecakes!
Cheese –
Cakes –
Carrot Cake with Cream Cheese Frosting by Hezzi D's Books & Cooks
Sour Cream Chocolate Chip Cake by Gourmet Drizzles
Dairyfree Ice Cream Cake by Galactosemia in PDX
KitKat Chocolate Cake by The Urban Mrs.
Old Fashioned Caramel Cake by There and Back Again
Peanut Butter Banana Bundt Cake with Chocolate Chips by Gotta Get Baked
Flourless Chocolate Bean Cake by Vintage Kitchen
Dense Chocolate Cherry Cake by What Smells So Good?
Tequila Lime Cupcakes by Mama Mommy Mom
Almond Polenta Cake by Shockingly Delicious
Salmon Cakes by Family Foodie
Banana Split Bundt Cake with Chocolate Glaze by NeighborFood
& Cheesecakes
This recipe was shared with: Weekend Potluck #58