This post may contain affiliate links. Read my disclosure policy.
Bananas foster cheesecake parfaits are a yummy combination of creamy cheesecake, caramel, and bananas, just like a traditional bananas foster dessert! They're also one of the best gluten-free no bake dessert recipes you can make for Mardis Gras!
Fat Tuesday, Mardi Gras, whatever you call it, always has the best food for the party. But after indulging in beignets and po' boys and gumbo, I decided to lighten things up a bit, while still keeping the flavors of a classic New Orleans dessert. Enjoy the yummy combination of creamy cheesecake with the caramel and bananas from traditional banana foster, all in a healthier, portion controlled, but still indulgent-tasting treat with these "Skinny Tuesday" Bananas Foster Cheesecake Parfaits.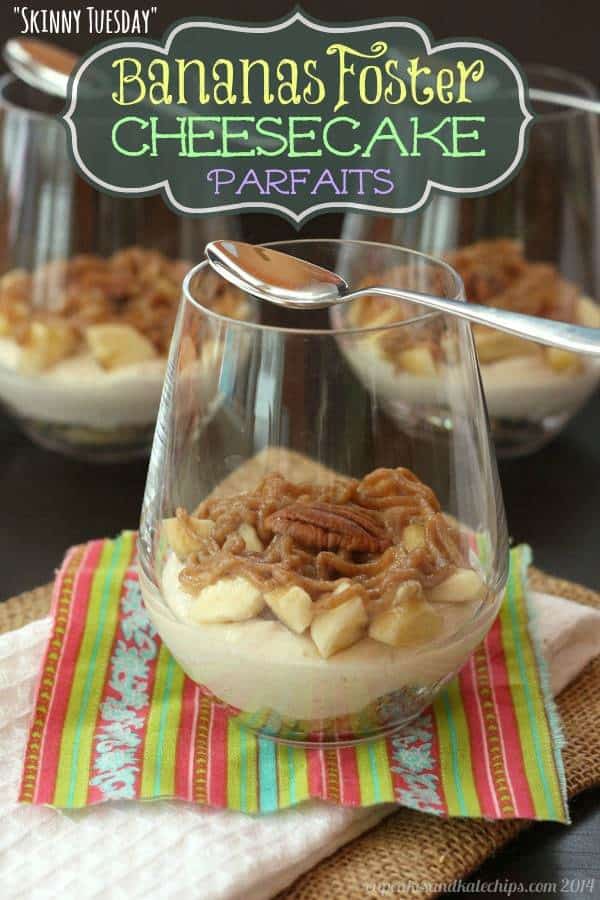 Have you ever been to New Orleans? How about Mardi Gras? I sort of get the feeling that those are two different things. You know, if you've only been to New Orleans during Mardi Gras, that basically you've seen Mardi Gras, but haven't seen New Orleans. I don't know, maybe I'm wrong, but I was there back in, hmm, 2003-ish. It was for a chemistry conference (fun times, right?), and since I was still single with no attachments and some extra money, I flew down a few days early to eat walk around and experience the city. It was actually around St. Patrick's Day, which I am told is like "Mardi Gras for Families". You know, all the parades and floats and beads, but none of the exposed body parts.
Somehow I ended up hanging out with the sales reps at the conference and not the chemists. As a chemical engineer, I think the chemists outcast me. That was cool, though, because the sales reps have travel and entertainment budgets. This meant free Hurricanes for me! Which, after a round or two of Hurricanes, led to us somehow ending up IN a parade down Bourbon Street.
Like I said – fun times! 🙂 Well, fun times after I ditched the chemists.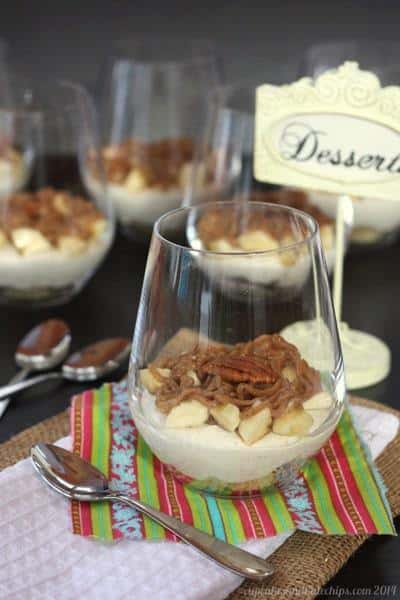 I didn't actually have Bananas Foster while I was in New Orleans, but I was introduced to it at one of my favorite Jersey Shore seafood restaurants. The spectacle of the waiters and waitresses wheeling around the carts, coming up to your table, and making your dessert right there in front of you is so cool. Oh, and the fire. Flaming alcohol is always fun, right? And then those warm, caramelized bananas poured over scoops of vanilla ice cream, causing it to begin to melt. Heaven!
We actually served bananas foster as a dessert at my wedding, as a bit of a nod to one of my favorite places down the shore.
So bananas foster cheesecake parfaits hold a special place in my heart.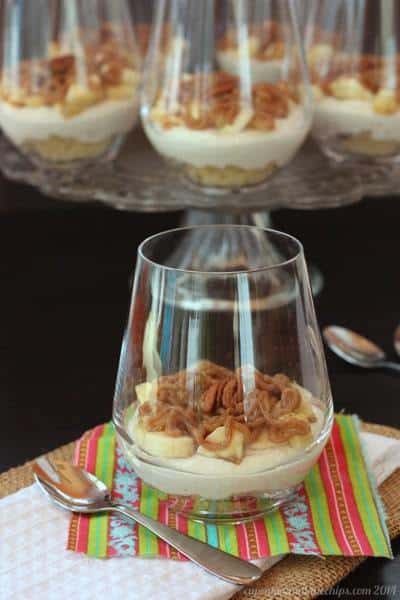 But, I did want to make it healthier, since many of my Facebook fans mentioned they would love some "cleaner eating" desserts. These cheesecake parfaits are completely grain-free and gluten-free, with a simple almond meal "crust" (though you could easily sub in graham crackers). The bananas foster-style caramel is made from dates, with a little cinnamon and rum extract. And some of this caramel and mashed banana is used to sweeten up a cheesecake-y mixture of cream cheese and plain Greek yogurt to bring in the creamy element that typically comes from the ice cream.
The date caramel was surprisingly, well, caramel-y. I can totally see using this in many more recipes, with different flavorings and extracts. Or, you know, just eating it with a spoon. The caramel and bananas added the perfect sweetness to balance the tartness and tang of the Greek yogurt cheesecake layer. I could easily have polished off three of these myself. In fact, over the course of two days, The Bug and I put away five of the six.
The Hubby taste tested the other one – well, I should know not to tell him it was "healthier". Anytime I mention there is Greek yogurt in a dessert, he says "I don't detect any sweetness." Umm, whatever. But if you aren't a Greek yogurt fan or you only like super-duper sweet desserts, this may not be your thing, but The Bug and I beg to differ.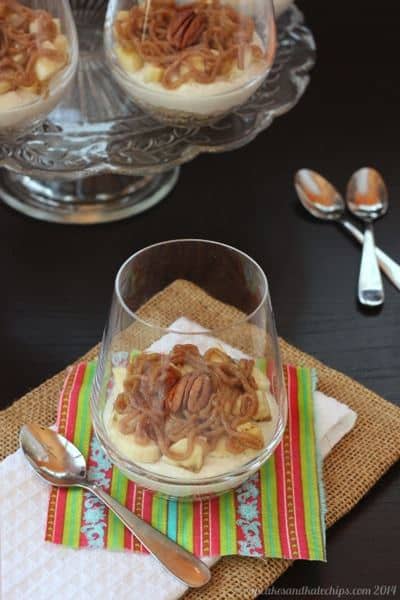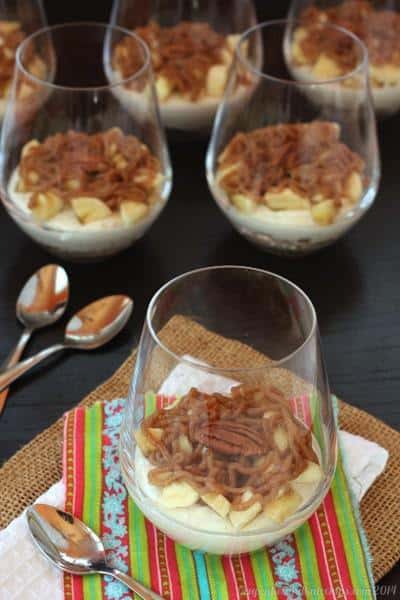 Enjoy the bananas foster cheesecake parfaits. Here's the recipe!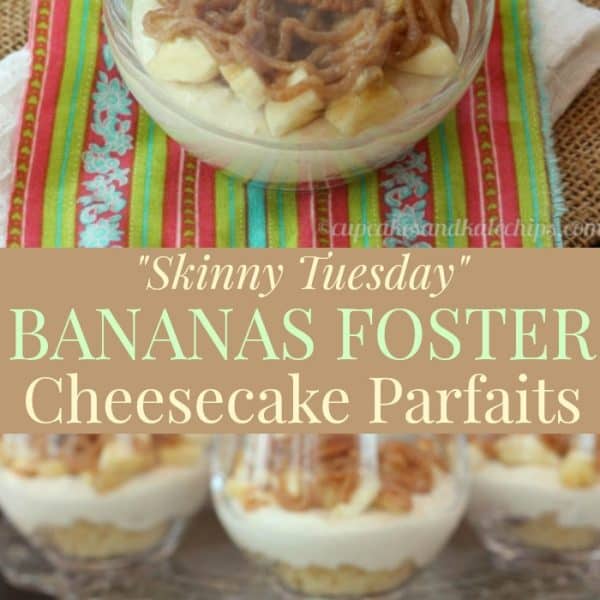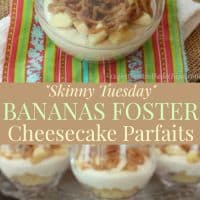 "Skinny" Bananas Foster Cheesecake Parfaits
The flavors of traditional bananas foster combined with creamy cheesecake, in a healthier, portion-controlled, but still indulgent-tasting treat.
Ingredients
For the crust:
1/2

cup

almond meal

or ground almonds. Graham cracker crumbs would probably also work if gluten- or grain-free was not a concern

1

Tbsp

honey
For the caramel:
1/2

cup

pitted

chopped dates (chop before measuring)

1/2

cup

milk

1/2

tsp

vanilla extract

1/4

tsp

rum extract

1/4

tsp

cinnamon
For the cheesecake layer:
4

oz.

cream cheese

at room temperature (I used light cream cheese)

1

cup

plain Greek yogurt

1/4

cup

of the Date Caramel

half of a very ripe banana

mashed
For assembling the parfaits:
one and a half very ripe bananas

quartered lengthwise and chopped

6

pecan halves for garnish

optional
Instructions
For the crust:
Combine the ingredients in a bowl, and stir until the honey is evenly distributed and the mixture is slightly crumbly. Set aside.
For the caramel:
Combine the dates and milk in a blender and blend until smooth.

Place in a small saucepan and cook over medium heat for 5-10 minutes, stirring frequently, until reduce to about 1/2 cup.

Remove from heat and stir in extract and cinnamon. Set aside to cool.
For the cheesecake layer:
Combine the ingredients in a medium bowl, and whip with a hand mixer until combined and smooth.
For assembling the parfaits:
Divide the almond mixture between 6 glasses or bowls, about 1½ Tbsp in each, and press down slightly.

Divide the cheesecake filling between the glasses or bowls.

Divide the chopped bananas between the glasses or bowls, about one quarter of a banana in each.

Top with the remaining date caramel. I placed it into a small sandwich bag, cut off the corner and squeezed the caramel over the bananas. Top each parfait with a pecan half, if desired.

Refrigerate until ready to serve. Can be made the night before and kept chilled until serving.
Nutrition Facts
"Skinny" Bananas Foster Cheesecake Parfaits
Amount Per Serving
Calories 169
Calories from Fat 108
% Daily Value*
Fat 12g18%
Cholesterol 23mg8%
Sodium 84mg4%
Potassium 55mg2%
Carbohydrates 8g3%
Protein 8g16%
Vitamin A 296IU6%
Vitamin C 1mg1%
Calcium 107mg11%
Iron 1mg6%
* Percent Daily Values are based on a 2000 calorie diet.
Categories: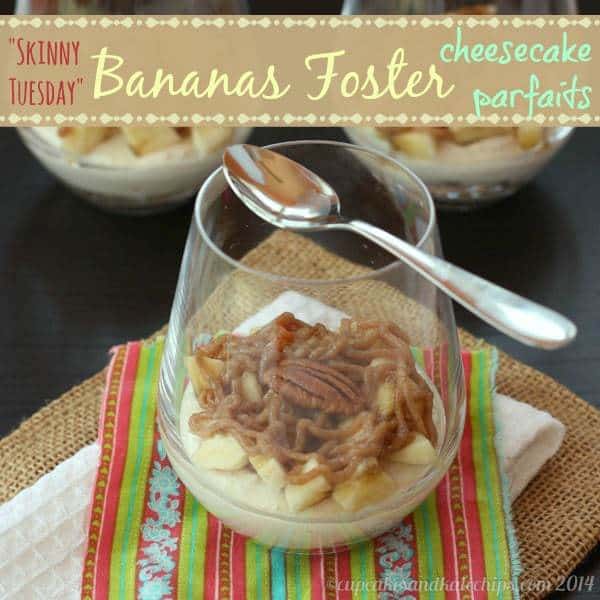 Are you looking for some more "skinny" cheesecake desserts for Fat Tuesday (or any day):
Need some ideas for your Mardi Gras Celebration? #SundaySupper has you covered:
Cocktails & Other Beverages:
Appetizers:
Main Dishes:
Side Dishes:
Desserts: