This post may contain affiliate links. Read my disclosure policy.
#SundaySupper is traveling the globe for the best of Street Food this week, and I made you my favorite street food. Tacos? Nope! Sandwiches? Nah! ICE CREAM! Banana Nutella Swirl Gelato, to be specific.
The Hubby and I went on vacation twice to Italy. Once to Florence and Rome, and the second time we traipsed around Tuscany. And it was the same thing pretty much everyday. Wake up, get a little (and I mean little… you'll see why) breakfast at the hotel, go do some sightseeing. The we'd get "lunch" – GELATO!!! We'd either sit in a piazza or stroll the cobblestone streets and people watch as we savored every flavorful, creamy bite. Then more sightseeing, maybe a little evening nosh at a bar. The night would end with the typical Italian late dinner where we would stuff ourselves with antipasti, pasta, secondi, and vino. Always vino. Then occasionally maybe some dessert… or more gelato. Finally we would roll ourselves back to our hotel and fall into a food coma.
I don't think we ever hit the same gelateria twice. We had to try them all. First I would ask how many different flavors I could get in the size cup that I planned to order, and, since I have no ability to make decisions, I'd get the maximum that they would squeeze into that cup. I would always get different flavors – whatever caught my eye that day, but usually it included chocolate or nuts or the chocolaty, nutty goodness that is Nutella. He would try a different flavor here or there, but he always got coffee. He felt he needed a constant so that he could compare one gelateria against another. Always the scientist!
I am getting so nostalgic writing this. The last couple of trips I made to Italy were for work, and I had very little time or opportunity to get gelato. Sure I had a cup or two, but it wasn't the same without The Hubby with me, comparing notes, trading bites, and just soaking up La Dolce Vita.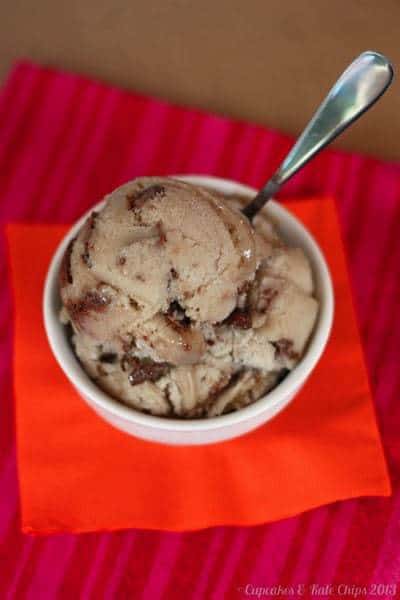 Enough reminiscing. So, Banana Nutella Swirl Gelato. This is one of those recipes I totally did not expect to work. I read the one I based it on, and didn't think it would work. I poured it in the ice cream mating and for the first 10 minutes, I didn't think it would work. Then I put it in a container and put it in the freezer, and didn't think it would work – I thought it might taste terrible and be solid as a rock. And, well, it's bananas, so it's not pretty. The mixture turns brown almost immediately.
But I was pleasantly surprised. Shocked, let's say. it's dee-lish. Let me tell you, I ate over two-thirds of it. I shared the last bit with The Hubby. Begrudgingly. But I suppose I needed another opinion, though I would have been happy to convince you to make it simply with my own. Because, well, yum!
Honestly, I would not call this a classic gelato. With it being mostly fruit, I'd put it somewhere as a gelato-sorbetto hybrid – slightly less creamy and little more, well, icy, I suppose, but still surprisingly soft and scoopable. By using super-ripe bananas and not many other ingredients, the true banana flavor shines through, and doesn't require a ton of added sugar. Don't be afraid of the rum. You don't taste it, there is hardly any there, and I am guessing, based this article from David Lebowitz, is probably key to keeping it from becoming a frozen brick. The swirls and chunks of Nutella pair perfectly with the banana, like little nuggets of happiness floating in a frosty banana cloud.
Plus, this is EASY! Yes, you need an ice cream maker, but no separating eggs, no cooking, no custards. Just puree, mix, churn, swirl, freeze. Done and done!
Also, side note, being a Polish girl, I was hoping to do a Polish street food. But man to the Poles like their wheat-y carbs, and my allergy was not down with that. So in my research, I found that in Poland, lody, or ICE CREAM, is one of their favorite street foods, particularly fruit-based ice creams. So while this is not a typical Polish-style lody recipe, I do feel like I am also giving a nod to my heritage.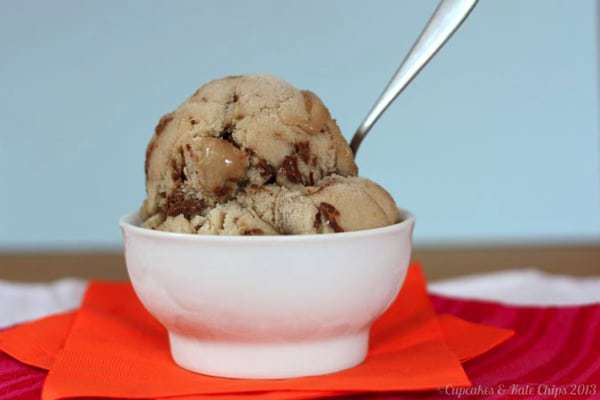 Be sure to join us for the Global Street Food #SundaySupper chat at 7 PM EST this Sunday evening. The party starts at 7 pm EST; come join us by following the #SundaySupper hashtag or through TweetChat. Throughout the day on Sunday we will tweet our favorite recipes by using #SundaySupper hashtag. We are excited for you to join the fun. Be sure to also check out the #SundaySupper Pinterest Board for more recipes and ideas.
What is your favorite street food?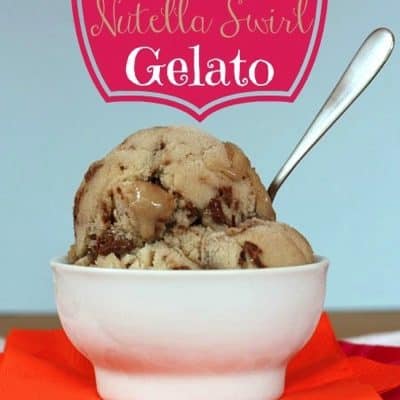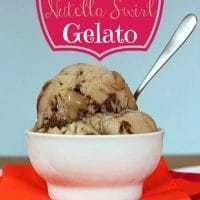 Homemade Banana Nutella Swirl Gelato
Banana Nutella Swirl Gelato is a simple recipe for an ultra banana-y homemade frozen dessert, swirled with chocolate hazelnut Nutella goodness!
Ingredients
1

lb

bananas

(or about 3 large, very ripe bananas, 2-2 1/4 cups after pureeing)

1/3

c

light brown sugar

2/3

c

milk

I used 2%, but have not tried other milks

2

T

rum

2

t

vanilla extract

1/3

c

Nutella
Instructions
Peel bananas, and place in food processor. Puree until smooth.

Add brown sugar, milk, rum, and vanlla extract. Process until thoroughly incorporated, scraping down the sides or breaking up chunks of bronw sugar, as necessary.

Pour the mixture into an ice cream machine, and churn according to machine's instructions.

Transfer to a freezer-safe container, place small dollops of Nutella on top of the gelato mixture, and swirls with a butter knife.

Place in freezer for several hours, or until frozen thoroughly.
Nutrition Facts
Homemade Banana Nutella Swirl Gelato
Amount Per Serving
Calories 341
Calories from Fat 81
% Daily Value*
Fat 9g14%
Cholesterol 8mg3%
Sodium 39mg2%
Potassium 615mg18%
Carbohydrates 62g21%
Protein 6g12%
Vitamin A 113IU2%
Vitamin C 10mg12%
Calcium 97mg10%
Iron 2mg11%
* Percent Daily Values are based on a 2000 calorie diet.
Categories:
Enjoy!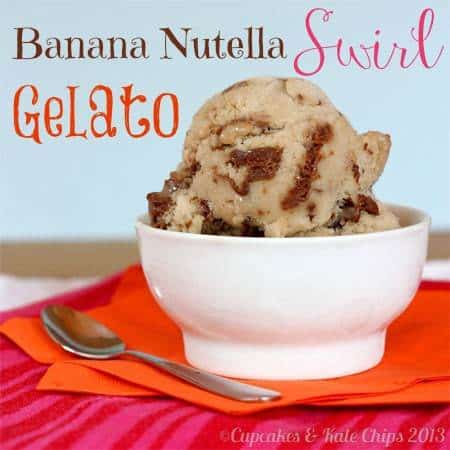 Check our all of these global street eats!
Bread on the Boulevard
Hand-Held Savory Eats
To-Go Containers
Sweets on the Streets
Grab a Thermos
And how about some more of my favorite international recipes:
Potato Cheese & Pot Cheese Pierogies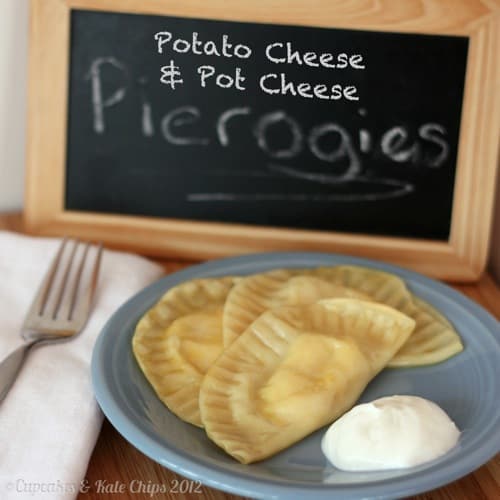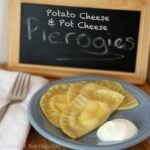 Thai Larb Chicken Lettuce Cups