This post may contain affiliate links. Read my disclosure policy.
So I told you yesterday that I wanted to share some different things this week. For anyone who was with me from the start, or for those of you who went back and read my first post, I spoke about balance. Balance was part of the inspiration behind the name Cupcakes & Kale Chips. Balance was what I hoped to gain, in several areas of my life, by starting this blog. And at first, I was gaining that balance. I was eating a more balanced diet (which for me meant actually eating more – I'll tell you more about that tomorrow), finding a creative outlet, connecting with new people who have similar passions to me.
Image from James Jordan
But truthfully, balance has never really been my strong suit. I have an "all or nothing" personality, perfectionist tendencies, and a fear of failure or letting people down. If I don't feel like I can give the time, attention, and energy to complete a task to my high standards and expectations, I don't even start it. My poor husband – I do this with chores, too. He will do a little job here, a little job there, and get things done. I have a big list of things I want to accomplish, and all I actually accomplish is making a longer list because I can never find the perfect time to get something done perfectly. But as The Hubby always tells me, there is no such this as perfection. The more you strive for perfection, the more you set yourself up to let yourself down.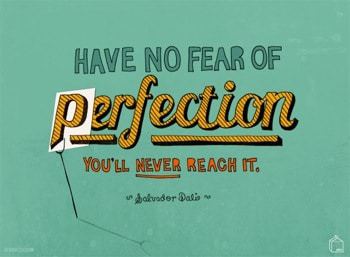 Image from Design Milk
But once I commit to something, I go all out. In school, I had straight A's. From Kindergarten through college. I had a 4.0 in Chemical Engineering. No lie! In my career, I was always praised for my dedication and work ethic. While I don't want to work full time since becoming a mom, I have been afraid to go back part time because I am not sure I could shut it down after doing my 20 hours. I was rarely able to shut it down after I did my 40 hours (which was to my benefit back in the day when I got paid for overtime).
The same thing happened with the blog. I started about two months ago, and for most of those two months, I was happier than I had been in a long time because I was finally doing something with my passion for food and cooking. I was creating and "connecting" – spending hours and hours on Facebook, Twitter, and on all of the blogs on my Google reader (more than I need, and more than I care to admit to). I got sucked in by all of the gorgeous photos, so I wanted to learn more about photography – meaning taking an online class, buying an e-book, spending hours and hours getting the perfect shot, uploading, editing, submitting to site after site, getting elated by the few acceptances, but having that more than offset by the disappointment of the rejections. I was also sucked in by the amazing photos of crazy sweet, decadent desserts, and so found myself daydreaming about making Birthday Oreo ice cream, PB&J double crumb coffee cake, and all kinds of other sweet treats, when truthfully, I have gotten more positive responses to my spaghetti squash and oatmeal and granola and millet recipes than my Lucky Charms Cupcakes (the Chocolate Coconut Creme Cupcakes were a hit, but I guess they are borderline between not-so-bad-for-you and not-so-good-for-you). And these are the recipes that most reflect the way I try to and usually do feed myself and my family.
I was and am still getting amazing, supportive, and complimentary feedback. And the more followers and comments I got back on recipes, the more recipes I wanted to put out there. So in the span of a little over a week, I posted Foodie Penpals, Friday Fun, Sugar Cookies with Royal Icing for First on the First, Chocolate Coconut Creme Cupcakes, Rosemary Balsamic Roast Chicken, Butternut Squash Mac & Cheese, Grilled Chicken & Berry Salad, Cheesy Veggie Breakfast Bake for the Holiday Recipe Club, another Friday Fun, and Almond Blueberry Muffins for Mom's Crazy Cooking Challenge. Phew!
And unlike some other bloggers who probably started their blog with a bit more preparation and planning, I did not have a backlog of recipes written and photographed and edited and ready for prime time. So I have been plugging away day after day, using all of my time while The Bug naps to get new posts done, recipes linked up at parties and hops, photos submitted, comments made on other blogs, comments responded to on my blog. I barely had time to make dinner. And what does that mean – no more new recipes cooked and photographed and written and edited.
And what does this all mean? In two short months, I hit a wall, and this fun hobby became a job – a job with assignments and deadlines and training and no paycheck (unless you count the pennies in ad revenue I am slowly accumulating). The Bug hasn't been getting as much attention as he wants and needs. The Hubby hasn't been getting as much attention as he deserves. Dinner only gets to the table once I get a good photo, so this sometimes means it has to get reheated. I've been staying up too late, not winding down, and then not sleeping well. So then I am too tired to get up early to exercise. The less I exercise, the less I want to exercise. The less I sleep and exercise, the more I want to eat, even when I am not hungry. It is a vicious cycle.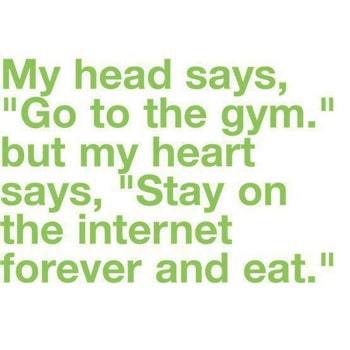 Well I love all of my readers, fans, friends, Facebook "Like"ers, Twitter followers. I really to think it is amazing that I have people reading what I write, commenting on it, trying the recipes, and letting me know what they thought. It is inspiring and makes me feel awesome. But if I give you a little bit less attention, I don't think any of you are going to head to a divorce attorney or therapist. If I keep giving less attention to my son and my husband, they just might. And having their love makes me feel even more awesome.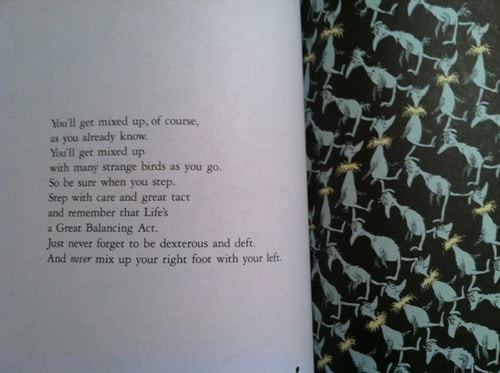 ― Dr. Seuss, Oh, the Places You'll Go!
So now I have to be a bit dexterous and deft. I am getting quicker and more efficient – the writing comes easier, the photography isn't as difficult, the editing is becoming a bit more second-nature. But really, I don't have to post a new recipe each day. I don't have to add all of last week's recipes to ten different link parties seven days a week. I don't have to join every blog hop and cooking challenge. I don't have to Tweet and Pin and Stumble and Tumbl EVERYTHING. I don't have to get the perfect photo and have it accepted by Foodgawker and Tastespotting for each new recipe. I don't have to come up with gimmicky desserts that I try not to eat too often because I think that the ones other people post sound and look incredible and I think that is what will get people to my blog.
I have to find balance. My grade school friend, Michelle, talks about finding balance – "that sweet spot between too little and too much effort. The place where we ease in and out of our comfort zone."
So what is balance for me, right now?
For better or for worse, be authentically me. Share myself.
Love my son and my husband and the rest of my family. Share my love.
Make my food – real, healthy, tasty food. With the occasional ice cream thrown in, but not every night, and not in the largest size that Carvel sells. Share my recipes.
Move my body everyday – whether it is getting on the elliptical, going to the gym, taking The Bug for a walk, going for a walk by myself, doing 10 jumping jacks whenever I think about it. It doesn't matter what it is – just move! Share my motivation.
Enjoy this awesome hobby and the people I have connected to, but don't make it a job – for now, my job is taking care of my family and my home. Share my stories.
Be happy if people keep following and reading and cooking and letting me know they loved my recipes. Share my happiness.
But also just be happy because I am doing something I love, indulging my passion, and putting it out there for anyone who cares. Share my passion.
Appreciate those who do care. Share my appreciation.
Thank you for reading and following and caring and sharing!
I know this exact situation doesn't apply to everyone. But I am sure everyone can relate in some way. There is probably some area of your life where you focus a bit too much time and attention, leaving you to neglect, to some extent, other things in your life.
So what is balance for you?