This post may contain affiliate links. Read my disclosure policy.
While I am wrapped up with feeding an infant, changing diapers, feeding an always ravenous preschooler, putting in a Toy Story DVD, chasing the aforementioned preschooler while holding the aforementioned infant, and all the other insanity that comes along with a new baby, my foodie friends are taking turns in the Cupcakes & Kale Chips kitchen. Make sure you head on over to Pinterest, too, where I will be pinning all of these awesome recipes on my Guest Posts board, plus my Inspiration boards!
Today I'd like to introduce Meghan from The Tasty Fork, who is bringing an amazing Bacon, Pear & Smoked Gouda Panini! I so want one of these – I mean you know I love fruit and cheese, and fancy pants sandwiches, and hello, BACON!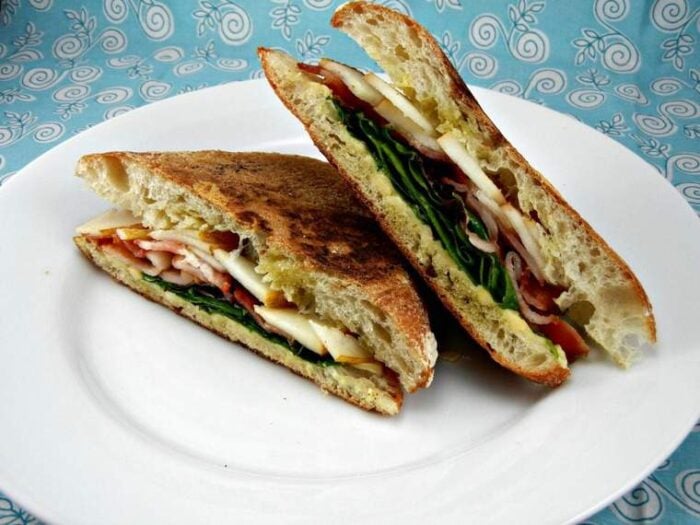 I am sooo ready to bite into my screen! You can find Meghan on Facebook, Pinterest, Twitter,  Instagram, and Google+.
Take it away, Meghan…

Hi Everyone! I'm Meghan and I have a blog called The Tasty Fork. I'm really happy to helping out Brianne while she's on her bloggy maternity leave. Before I get into my post, I'd like to thank Brianne for letting me share my kitchen with her readers! She's always bragging about you guys so of course I wanted create a new recipe and post it on Cupcakes & Kale Chips.
Over at The Tasty Fork, I'm sure you can guess I blog about food. A majority of the recipes I share are ones I created. You see, I have a hard time eating the same things over and over again. Being creative with food & flavors is something I love to do & live for it. My husband is my #1 fan and taste tester. All meals must get his approval, even the girly recipes.
I live in Chicago. The past few months have been so cold and snowy. I've been trying to only go to the grocery store once or twice a week. I really want to stay inside my warm home as much as possible. On a Saturday afternoon, I took a peek into my fridge and wondered, "What in the world can I eat right now??" I'm rummaging through the shelves and just when I think I'll have to eat carrots and cheese, I came across bacon. Angels start singing. How did I not remember using bacon earlier in the week?? How did I not use all of it in one meal? Bacon hardly lasts more than one day in our house.
Working with what I have in my kitchen, I scanned the area to find good matches for my bacon. Of course, EVERYTHING goes well with bacon, so at least I was off to a good start. I had some pears which finally ripened, a bag of baby arugula and some leftover ciabatta bread from the bakery. And then there was the smoked Gouda cheese I had bought just because there are times in my life when I want cheese, crackers & wine for dinner. I didn't want that mood to strike when I'm snowed in and not have any good cheese…. Looks like I had all of the ingredients to make a Bacon, Pear & Smoked Gouda Panini.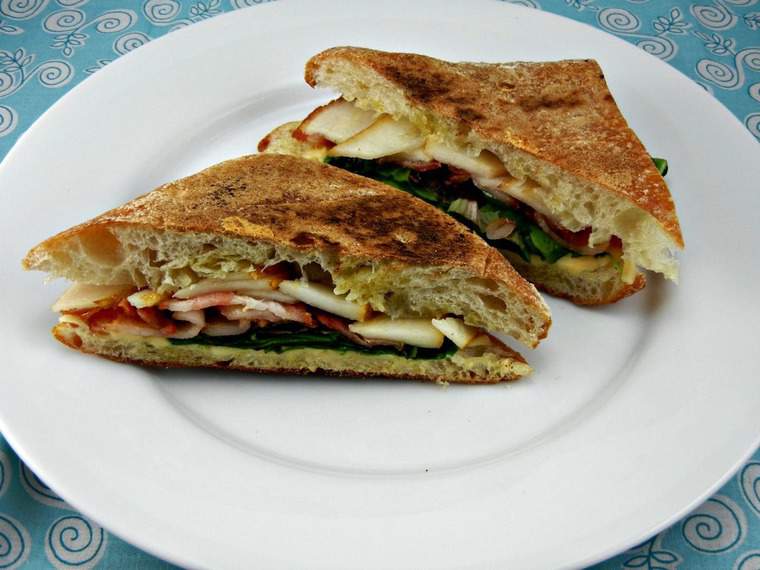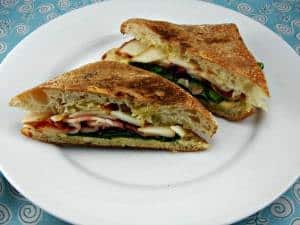 I love a good sandwich but I wanted to take this panini up a notch. Have you ever made flavored oils? I LOVE to mince up some garlic, add it to warm olive oil and let it seep for a few minutes. Brush the garlic oil all over the inside of your sandwich bread – it's a sure way to get extra flavor depth into a super easy meal.
Easy & tasty – that's how I like my recipes. This panini falls into that category. The bacon and smoked gouda are the savory stars of the sandwich. I like how the pear adds a sweet flavor and lightens up the meal. Arugula is a peppery green and works well with the savory & sweet elements in this sandwich. Some kind of rustic, crusty bread is required for a panini. I had ciabatta on hand, but use whatever kind of bread you like…just make sure it's "strong" enough to keep the panini together.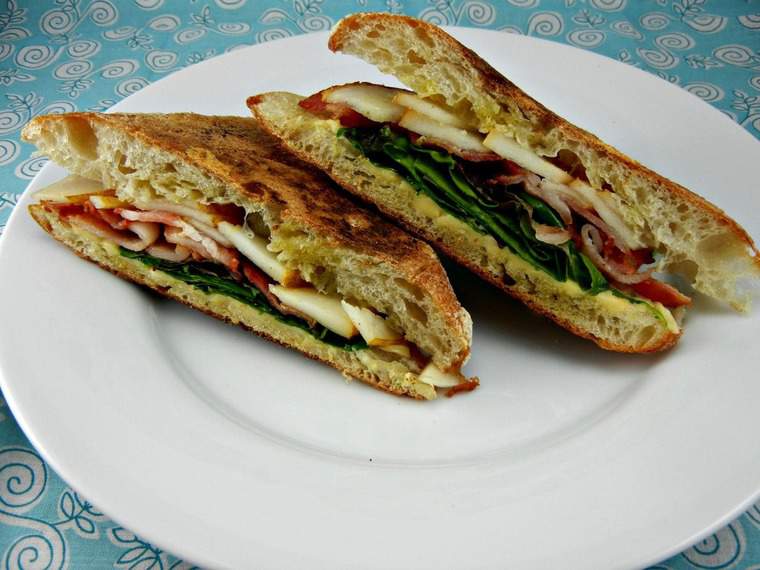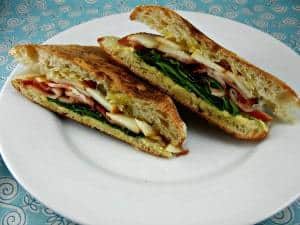 I hope you guys liked my on the fly panini. I truly believe in making recipes your own. So if you don't have pears, use apples. Or if you're looking for a lower calorie option, dismiss the bacon and use deli turkey instead. Feel free to make substitutes to fit what you like!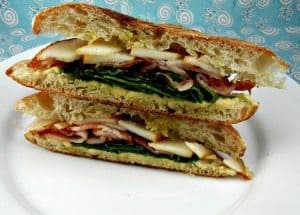 I'd love to invite you to see more of my family friendly recipes. Come on over to The Tasty Fork anytime! You can also keep up with me on Facebook, Pinterest, Twitter,  Instagram, and Google+. Happy eating my new friends!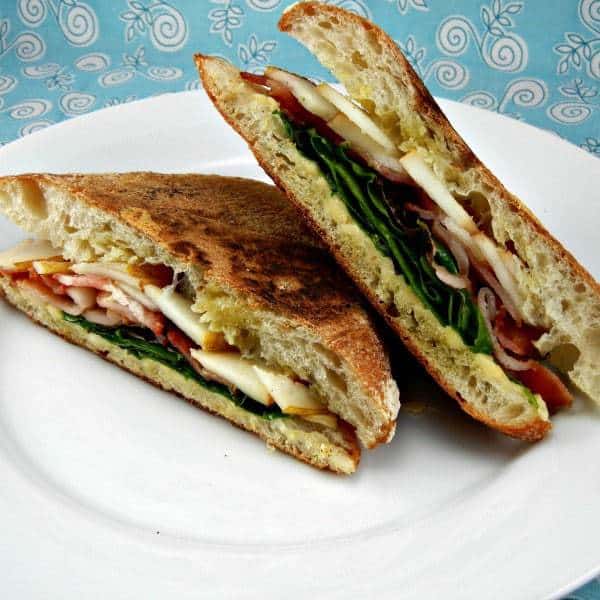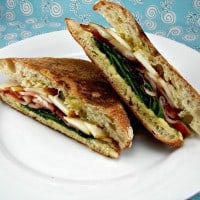 Bacon, Pear & Smoked Gouda Panini
This easy panini recipe is filled with crispy bacon, sliced pear, and gooey smoked gouda. This is sure to become one of your favorites!
Servings:
2
hearty sandwiches
Ingredients
¼

cup

extra virgin olive oil

2

garlic cloves

minced

4

slices

of your favorite artisan bread

such as ciabatta

8

slices

of bacon

cooked

1

pear

thinly sliced

¼

cup

shredded smoked gouda

½

cup

baby arugula
Instructions
To make Garlic Oil – In a small sauce pan, add olive oil & garlic. Bring it up to a boil and remove from heat. Let the garlic sit for 10 minutes. The garlic can be strained or just leave it. It's up to you!

On the ciabatta bread, spread the garlic oil on both sides. Start to layer the sandwich by adding bacon, pear slices, smoked gouda and baby arugula. Top with the other piece of bread and place in a preheated skillet or grill pan. (Or a panini machine if you have one!) I put my cast iron skillet on top of the sandwich so it would press the sandwich.

On a medium-low heat, cook the sandwich until cheese is fully melted; 3 to 5 minutes per side. Serve immediately while cheese is still warm.
Categories: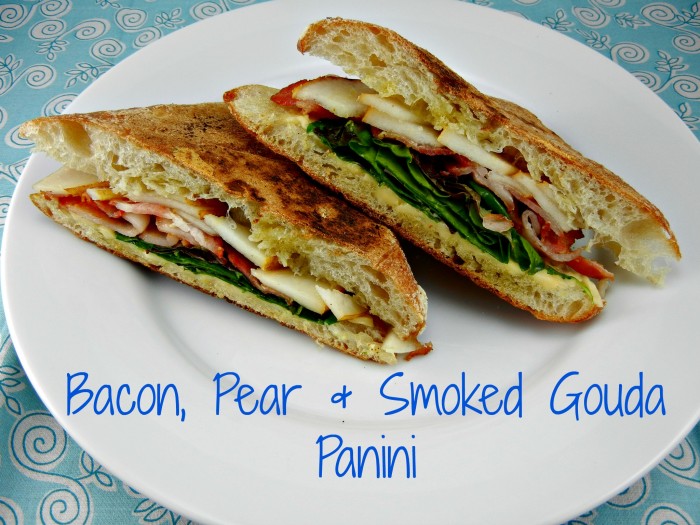 Thanks Meghan! Sounds and looks super-yummy!

Want to see lots more yummy food from me and my friends, and cute pictures of my kids?
Follow me!
Or have Cupcakes & Kale Chips delivered to your Inbox by entering your email in the box on the left sidebar.