This post may contain affiliate links. Read my disclosure policy.
Disclaimer: I was provided with a set of T-fal cookware to use and review, a set to give away, as well as the full version of the Cooking Planit iPad app to use and review. As always, all opinions are my own.
Sure, Cooking Planit is a great resource for your typical Monday to Friday fare, like Easy Beef Tacos, but what about when you want an extra hand in the kitchen with preparing something maybe just a bit fancier, like Bacon Corn Pesto Pasta and Roasted Broccoli with Parmesan? Cooking Planit has you covered there, too!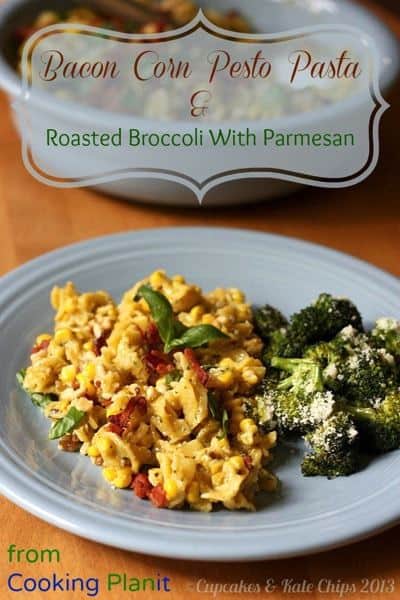 The other day I shared my experience following along with one of Cooking Planit's set menus. This time, I wanted to make a meal that was a bit more complex, and I wanted to create my own menu, just to see how the meal prep would proceed by following along with the app for two recipes that Cooking Planit hadn't already paired up. And this menu creation is part of the fun of Cooking Planit. I was really enjoying swapping things out and putting things together. I should also mention here that I do like the Search function, since you can do a keyword search, include or exclude ingredients (I was able to do gluten free searches), look for Easy Meals, Kid Friendly Meals, Healthy Meals, and search for menus or single recipes.
Once again, I love the single ingredient/grocery list and equipment/utensil list, and this even works when you put together your own menus. It really helps with my advance mise en place, especially when preparing a more involved meal.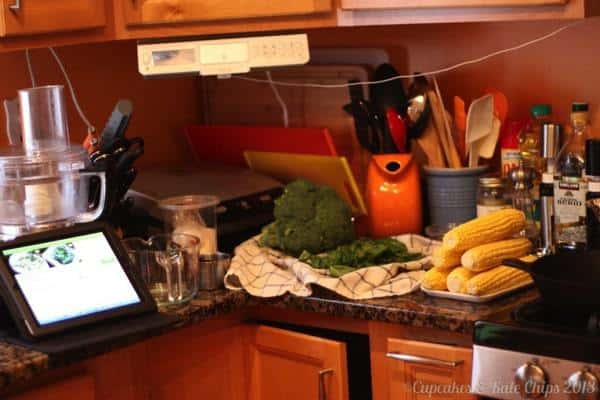 As with the taco prep, the instructions were fairly linear, and the app did guide me to slow down or stop at points, in order to keep things moving along at such a rate so as to have everything complete at the same time. However, with the pasta dish, since it was a single recipe, the steps were put together in a very efficient way, so that while the water was boiling and pasta cooking, I was doing other things, like cooking the bacon and making the pesto. Now that I have made this recipe once, though, in the future I might make the pesto in advance, if I had spare time earlier in the day. But having the app walk me through it once was quite helpful, since there are a number of steps and a lot going on. So that s a cool feature – Cooking Planit can almost be your personal cooking school instructor. If you like a recipe and make it over and over, you may no longer need the instruction, but perhaps the first time or two, it can help you learn the recipe.
Adding in the broccoli recipe did make things hectic at times, with how Cooking Planit optimized the activities, which is why I might like to have the pesto ready earlier in the day. But again, this is a personal preference, with two little ones making it hard to give my complete focus from the beginning to the end of a recipe.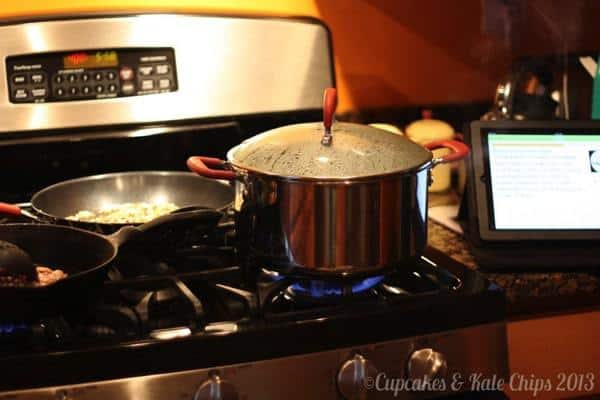 One thing I would love to see from Cooking Planit is suggestions for alternate ingredients, or the ability to input substitutions into the program so that it populated with the ingredient you are using. In the case of this recipe, I didn't realize I was nearly out of pine nuts, so I substituted half walnuts, and, since I stick to gluten free pasta due to my wheat allergy, and couldn't find gluten free tagliatelle, so I used rotelle.
So, what about the food?! Can you really go to Cooking Planit when you want to make an impressive dinner? YES!!
I loved loved loved this pasta. The boys did too. The Hubby and The Bug both polished off the leftovers for dinner a couple night later. The addition of corn to the pesto was so unique, though I might have gone a little heavier on the basil, then that sweetness with the salty smokiness of the bacon, it was just an explosion of flavor. Plus I love that some of the nuts were not pureed with the pesto, so there was a nice crunch and texture. The Hubby's only complaint was that he would have liked more meat (always the carnivore he is), but I think this would be delicious with the addition of chunks of chicken, or even some shrimp.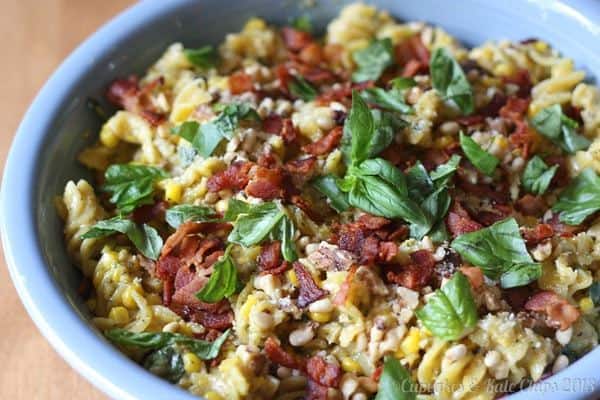 The broccoli, well, it is your standard roasted broccoli, and I frequently add parmesan to, well, everything. At least, this is a standard in our house. But it was a nice dish to pair with the pasta, and I think made the perfect complement for adding a veggie to the meal. And if it isn't a standard in your house, it should be. Broccoli is sooo much more delicious when it is roasted and you get some nice, charred edges. And parmesan cheese, del, 'nuff said!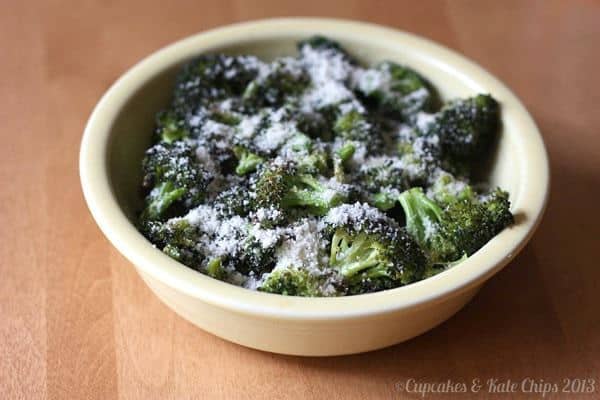 Isn't this a gorgeous late summer meal? I can assure you, it tastes as good as it looks.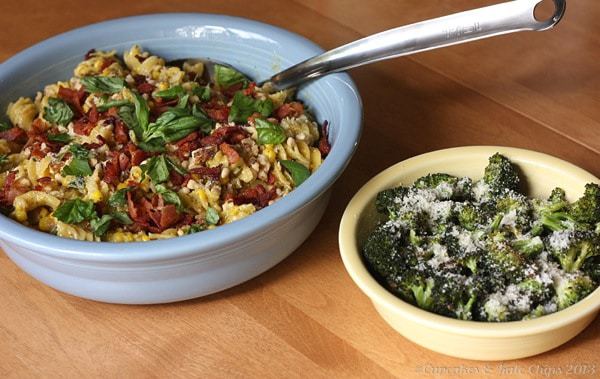 Head on over to Cooking Planit to sign up for a free account to get the recipes for Bacon Corn Pesto Pasta and Roasted Broccoli with Parmesan.
Enjoy!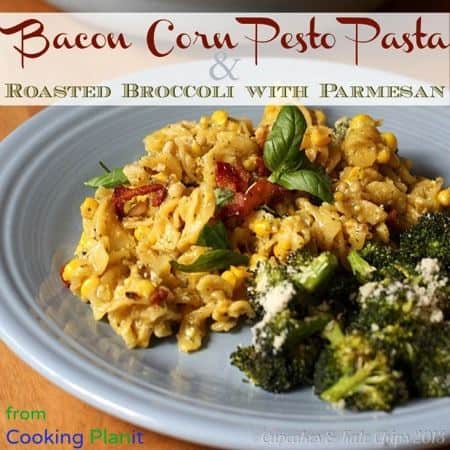 And don't forget to check out my T-fal Cookware review and GIVEAWAY!! The giveaway ends SOON, so make you you enter NOW, and check out the list below for who else is giving away a set.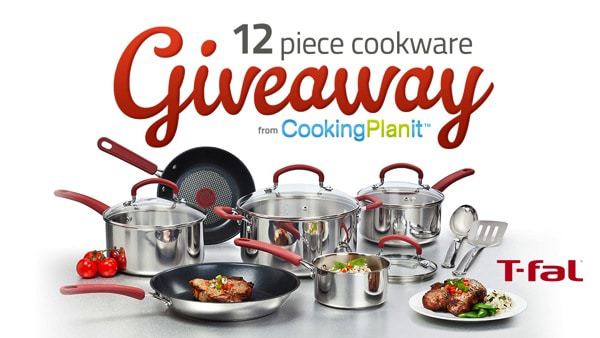 Need some more special occasion meal ideas?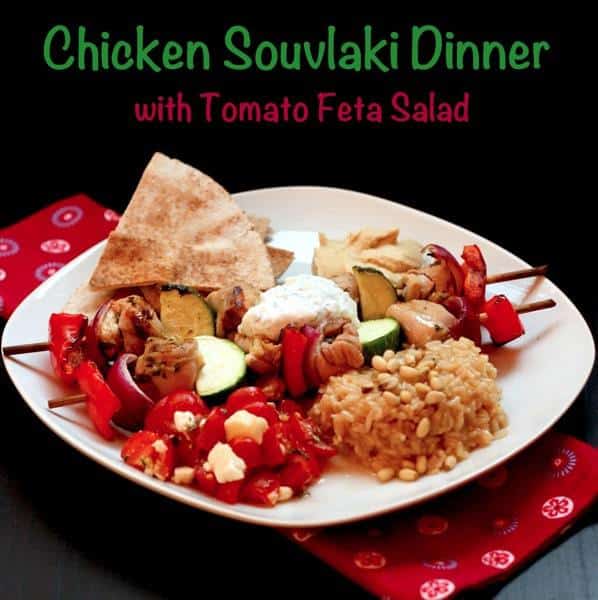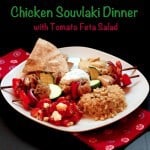 Individual Beef "Phyllingtons"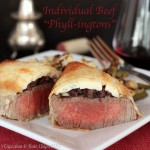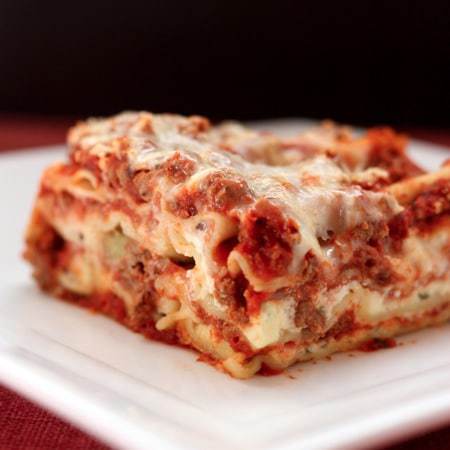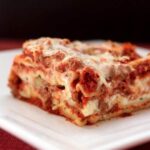 Plus a few from my friends: