This post may contain affiliate links. Read my disclosure policy.
Millet, a healthy and gluten free cereal, pairs perfectly with oven-roasted asparagus and sauteed mushrooms to create this filling, meatless roasted asparagus and mushroom millet pilaf. It's one of my favorite gluten free asparagus recipes!
I was totally lazy yesterday afternoon while The Bug was napping. And all evening, after he went to sleep. I should have been folding laundry. Or cleaning up the kitchen. But instead I started writing a blog post, perusing Facebook, and catching up on My Fair Wedding and Sweet Genius on my DVR. And why was I feel totally OK with this? Well, The Bug was napping.
My tummy was full from gobbling up some leftovers of Friday night's dinner (after I had already eaten lunch. And a cake pop.) while I was photographing it for this blog entry. And The Hubby was away until Sunday afternoon, so I knew I had all night and a good portion of Sunday to do the piddly tasks. Other than the sound of The Bug snoring over the monitor, the house was very quiet. Almost unnerving how quiet it was. Today, for some reason, the quiet is nice and appealing. Maybe because now the chores are done, and it is a damp, dreary day, perfect for staying inside.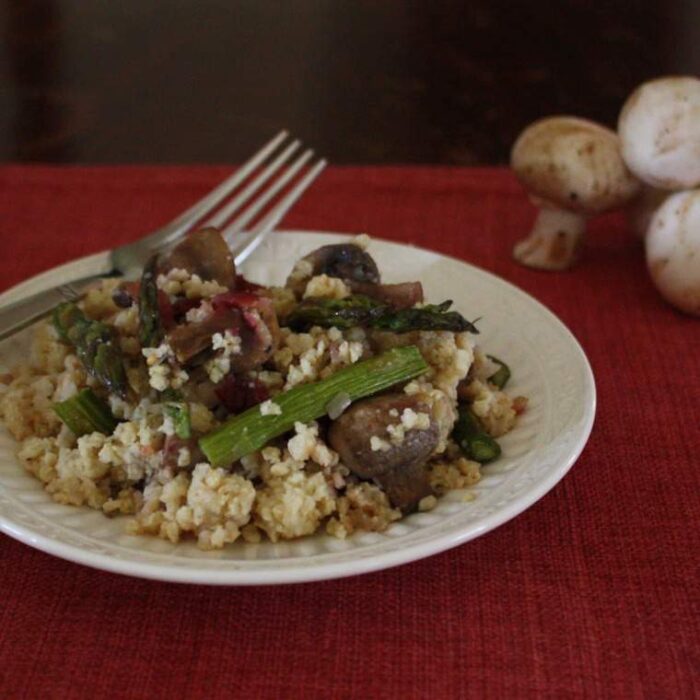 So anyway, dinner Friday night. So good! As I mentioned, I was picked at more of it straight out of the fridge. And, since The Hubby wasn't home, I just finished it off for dinner. The Bug happily devoured a broccoli and cheese omelet (with ketchup naturally). I'm wasn't sharing my leftovers.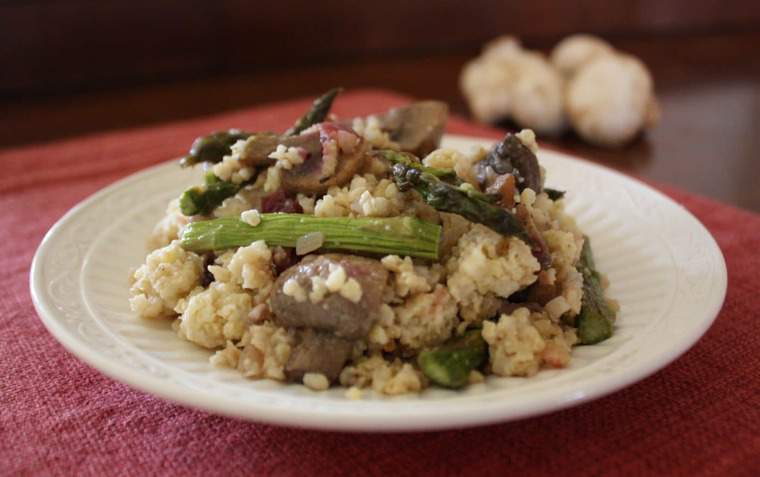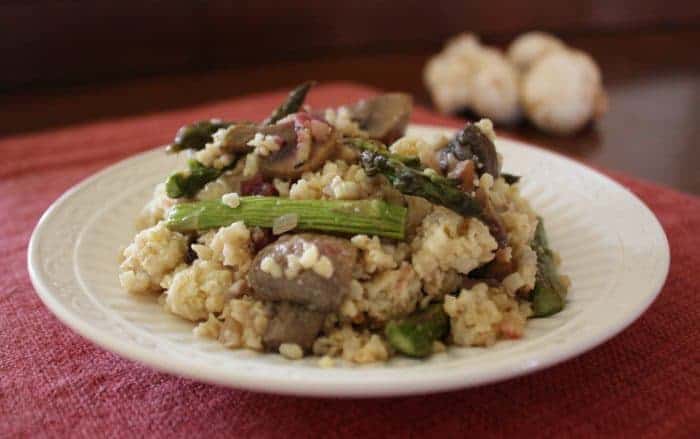 I love Jessica's How Sweet It Is blog. Her photos are amazing (something I aspire to), and she cracks me up regularly. You would think by the name that her blog would be all about desserts. Well, she does have some A-MAZ-ING desserts. But oftentimes, it is her savory recipes that catch my attention. Like this Springtime Jasmine Rice Salad. Mushrooms, asparagus… mmmmm!!!!
I scoured my grocery store and could not find the jasmine brown rice. I guess I could have bought regular jasmine rice, but I bought a bag of millet on a whim awhile ago. Millet is a grain that looks similar to couscous or maybe even kinda like barley, but it is gluten-free. I have been trying to figure out a way to make it that wouldn't freak out The Hubby. Put a new dessert or a new meat dish in front of him, and he is all over it. A new vegetable or grain – well, that is usually perceived as me trying to force "crunchy" health foods on him. But this was good. Real good.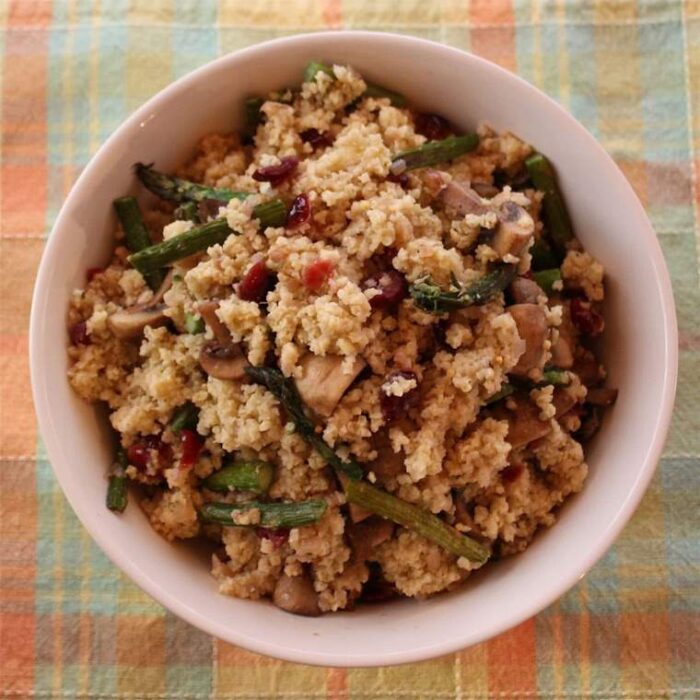 I used some dried cranberries instead of the dried cherries, and tweaked the amounts of other ingredients, since I was making a larger portion. And I used vegetable broth instead of chicken. I'm sure either way would be great, but with the veggie broth, this is a nice vegan meal. And if you aren't vegan, try it with some shrimp, like we did on Friday night, or sprinkled with a little goat cheese, as I did on Saturday night. Or eat it straight out of the fridge, cold.
The Hubby liked it, despite his lack of love for asparagus and mushrooms, and The Bug ate his portion. Though honestly, he was more interested in devouring seven or eight shrimp – go figure, normally he won't touch shrimp. Ugh, the eating habits of toddlers!
I definitely want to try it with the brown jasmine rice, just as Jessica made it. But I think that'll require a drive to Whole Foods, which, sadly, is not too convenient. And I still have that bag of millet, or I am thinking it would be good with quinoa, to, to amp up the protein. Mom, can't wait for you to try it – this is what I am making on Good Friday!
And since it is so quiet, I need some conversation, even if it is "virtual". So tell me what you think of this recipe, answer the questions below, or just say Hi. I'd love to hear from everyone who is reading, so we can get to know each other!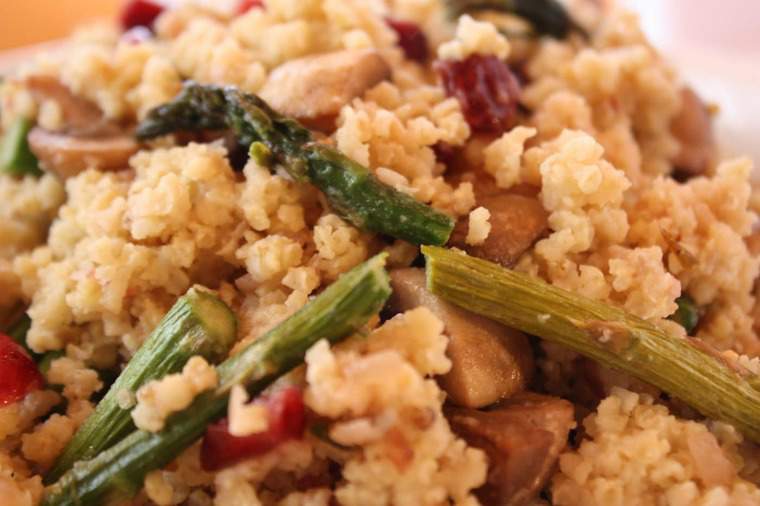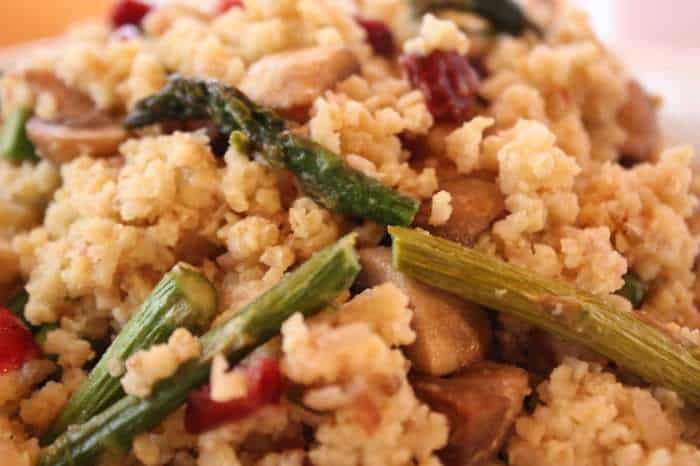 Are you lazy or productive when your significant other is away? What are you favorite spring vegetables or fruits?
I hope you enjoy this delicious millet pilaf side dish!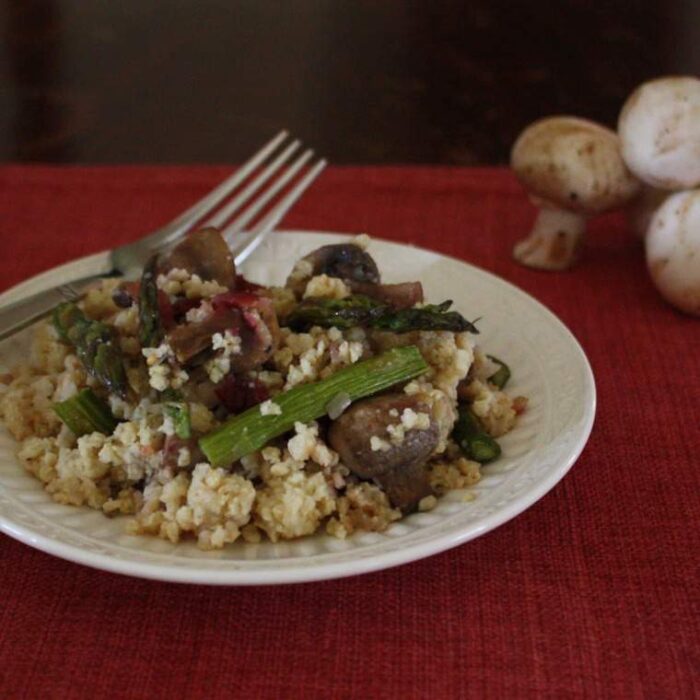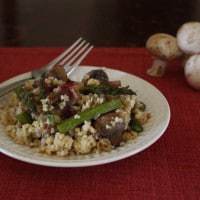 Asparagus and Mushroom Millet Pilaf
Millet, a healthy and gluten free cereal, pairs perfectly with oven-roasted asparagus and sauteed mushrooms to create this filling, meatless roasted asparagus and mushroom millet pilaf. It's one of my favorite gluten free asparagus recipes!
Ingredients
about 1 lb asparagus spears

woody stems removed, cut into 1-1 1/2 in pieces

2

Tablespoons

olive oil

divided

1

cup

millet

1

teaspoon

kosher salt

2

cups

low-sodium vegetable or chicken stock

1

shallot

minced

3

garlic cloves

minced

1

pint

white or baby bella mushrooms

quartered

1/2

cup

dry white wine

I used a sauvignon blanc

1/3

cup

dried cranberries

coarsely chopped

freshly ground pepper
Instructions
Prepare the millet as per the package directions, using stock instead of water. I cooked mine in my rice cooker.

Preheat the oven to 400°F. Toss the asparagus with 1 T olive oil, 1 t salt, and freshly ground black pepper. Lay in a single layer on a baking sheet, and roast until tender, about 20-25 minutes.

Heat 1 T olive oil in a skillet over medium heat.

Add shallot and a little salt, and cook until soft, about 2-3 minutes.

Add mushrooms to the pan, and cook until nicely browned and soft, about 5-7 minutes.

Add the garlic and dried cranberries, and cook for another minutes or so.

Add the wine, and cook for a couple of minutes to reduce the liquid a bit.

Toss the mushroom mixture with the roasted asparagus and millet, and season to taste with salt and pepper.
Categories: