This post may contain affiliate links. Read my disclosure policy.
I've told you before how much I love celebrating special occasions with my blogging friends because, not only do I get to tell you about someone incredibly sweet and creative, but I also get to share some goodies with you. This time Kayla at Say Not Sweet Anne is celebrating her 2nd Blogiversary with a $300 Amazon Gift Card Giveaway!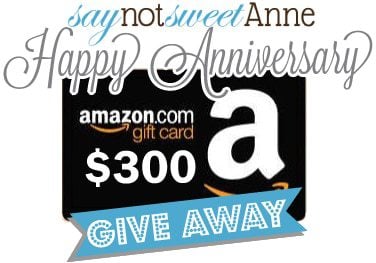 Kayla is a graphic designer (and hopefully soon a full-time blogger) who creates beautiful crafts (like these 3D Paper Necklace Charms), yummy recipes (like this Roasted Acorn Squash & Chai Ice Cream), and one of her most popular items a Printable Blog Planner for all of you other bloggers out there. So make sure you enter her amazing giveaway right here, then head over to say Hi to her on Facebook, Twitter, Pinterest and Google+.