This post may contain affiliate links. Read my disclosure policy.
Once again, the holiday season is upon us! Whether you're expecting plant-based friends and family at your holiday table this year, or if you want some tasty new recipes for the new year, here are 30 vegan recipes for the holidays.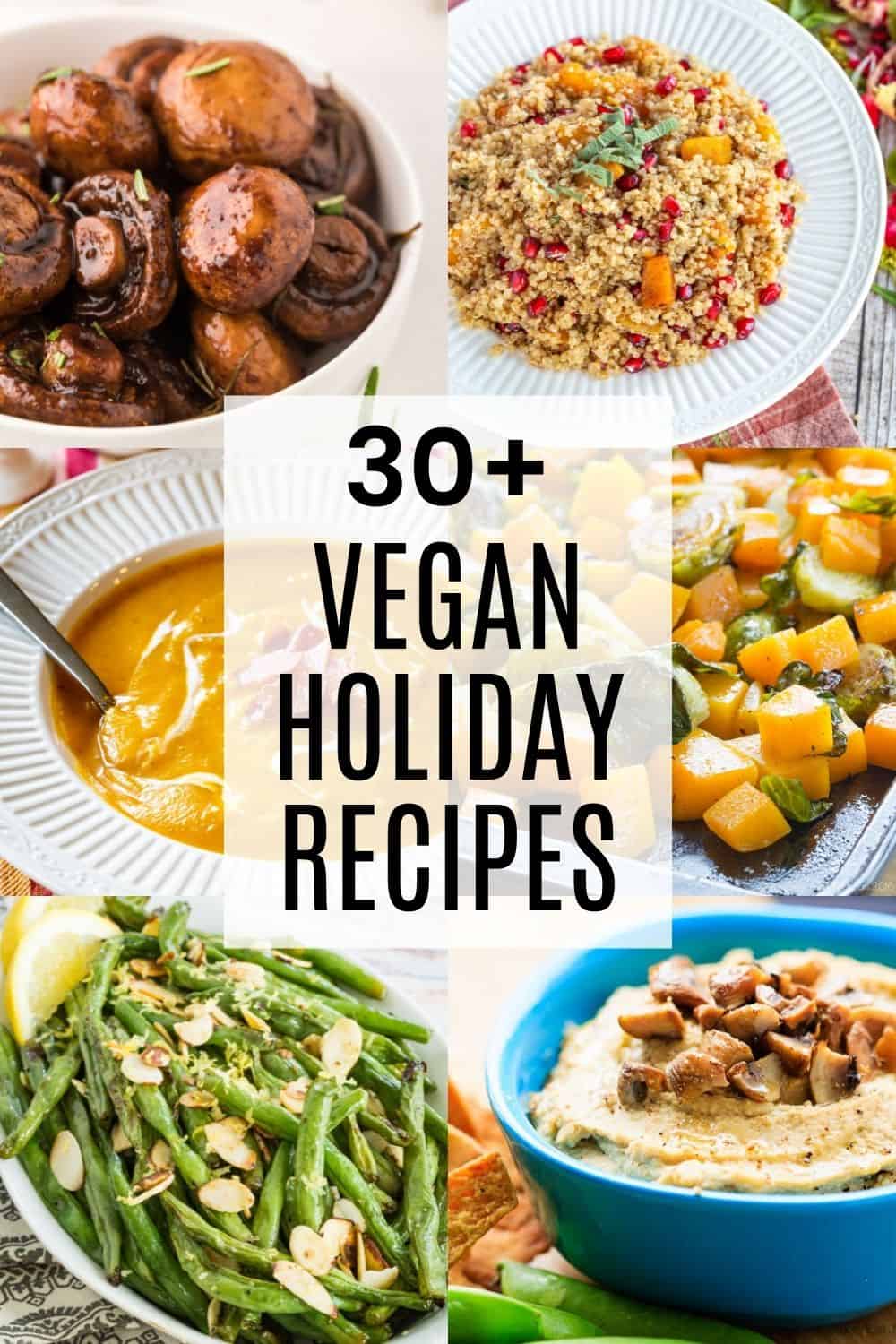 Easy Vegan Recipes for the Holidays
From festive vegan side dishes to flavorful vegan mains, these are some of the most perfect recipes for this year's holiday meals. As an added bonus, many of these vegan meal ideas call for simple yet delicious ingredients and fuss-free cooking. With these recipes on hand, you'll be well on your way to an amazing vegan Thanksgiving or Christmas feast in no time!
CLICK ON THE TITLES TO GET THE RECIPES
Key to finding gluten free recipes:
GF – gluten free recipe
GFO – recipe with gluten free option
Dairy Free Vegan Biscuits | WonkyWonderful
These light and fluffy biscuits are dairy-free and only require a whopping 2 ingredients to make! You can't beat this simple recipe for tasty, vegan-friendly dinner rolls.
Black Bean, Pomegranate & Avocado Salsa GF | Two Peas & Their Pod
The beautiful colors in this easy salsa recipe make it a perfect vegan appetizer for parties and then some. For an easy and festive holiday snack, pile this fresh homemade avocado salsa dip on top of crunchy tortillas or crackers.
Brussels Sprout Slaw with Maple Cider Vinaigrette GF | The View from Great Island
For Brussels sprouts fans and future converts, this is a delicious and healthy recipe featuring these versatile vegetables. These sprouts are tossed in a sweet and tangy maple cider vinaigrette for a burst of fresh fall flavor. This dish also adds a nice pop of green to a table!
Garlic Roasted Mushrooms with Balsamic GF | Cupcakes & Kale Chips
Just a handful of ingredients gives these mushrooms tons of bold flavor. The richness and meaty texture make them satisfying and worthy of being the star of the meal.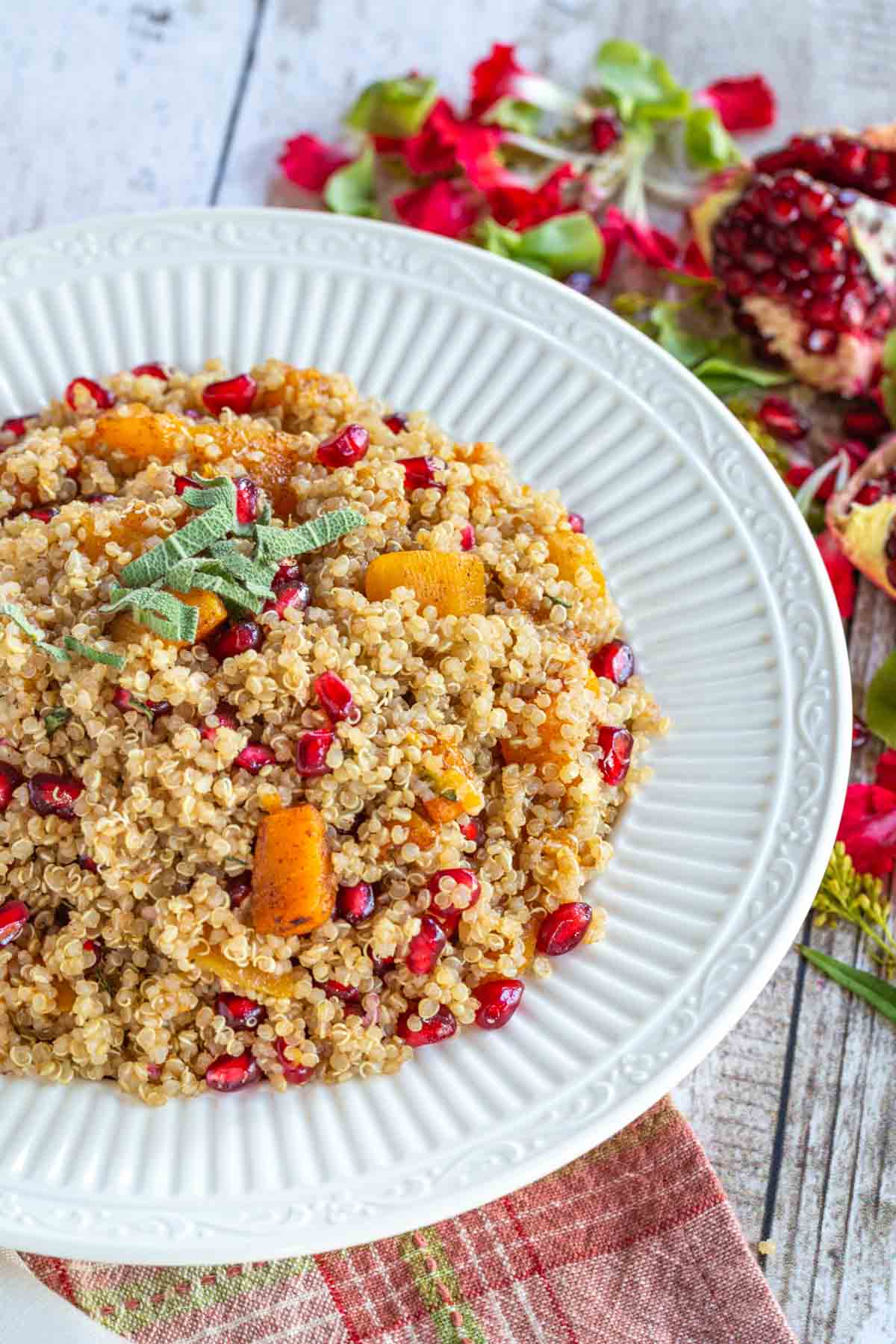 Butternut Squash & Pomegranate Quinoa GF | Cupcakes & Kale Chips
Next, a gorgeous vegan recipe made with healthy quinoa and tender roasted butternut squash, topped with balsamic dressing and sweet/tart pomegranate seeds. It's a colorful and flavorful fall dish that's perfect for the holidays!
Mushroom and Roasted Garlic Hummus GF | Cupcakes & Kale Chips
This homemade hummus recipe was made for easy dipping. With an infusion of umami flavor from roasted mushrooms and garlic, you and your guests won't be able to get enough.
Cinnamon Orange Cranberry Sauce GF | Cupcakes & Kale Chips
This is a delicious recipe for holiday cranberry sauce made with fresh cranberries. The warm fall flavors of cinnamon and citrus really kick it up a notch! A sweet and tart, easy vegan recipe – and as a bonus, your house will smell incredible!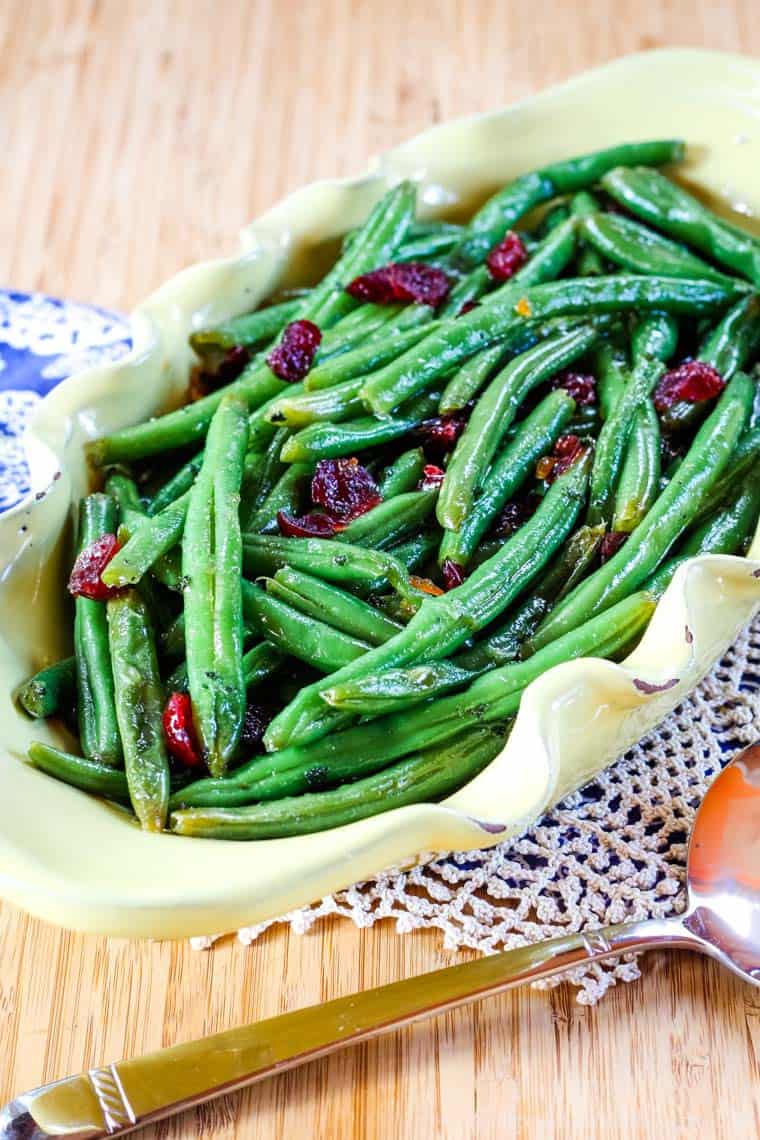 Cranberry Orange Glazed Green Beans GF | Cupcakes & Kale Chips
You'll love this simple side of green beans, cooked to tender perfection and dressed in a sweet and tangy orange dijon glaze. To top it all off, dried cranberries are like the cherries on top of this beautiful and easy vegetable side dish!
Easy Roasted Broccoli with Sesame Maple Glaze GFO | Cupcakes & Kale Chips
This easy broccoli side dish is made with maple and sesame for a wonderful sweet and savory flavor. Simple, delicious, and vegan; more or less the trifecta for the holiday recipes on this list!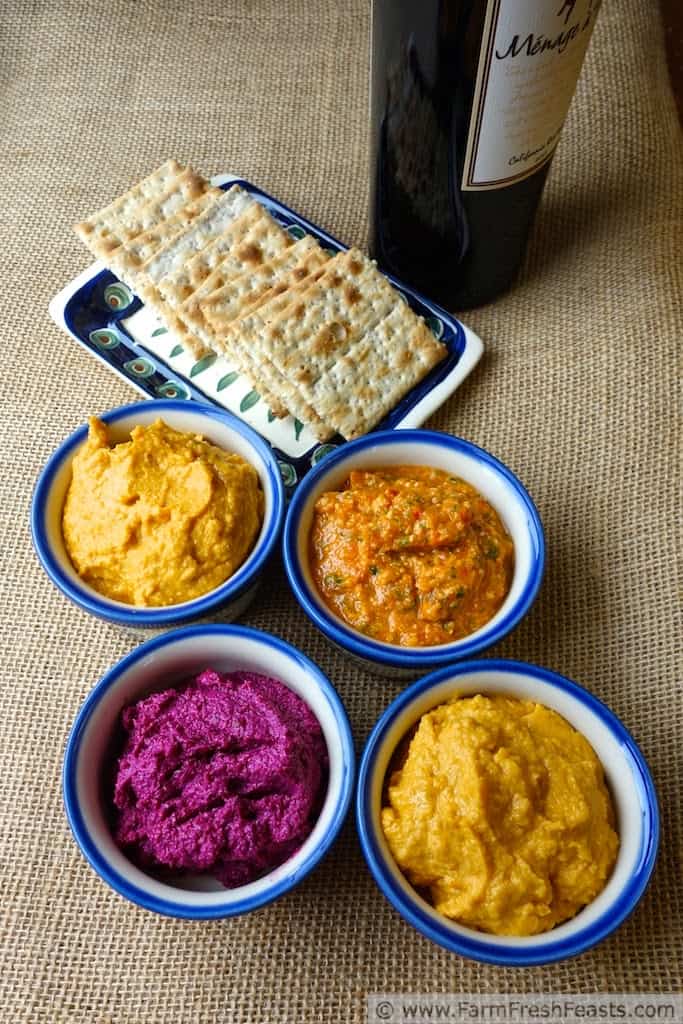 Fall Color Vegetable Appetizers GF | Farm Fresh Feasts
A rainbow of fall colors in appetizer form! Mix and match these seasonal and easy veggie dips featuring pumpkin, carrots, beets, tomatoes, tomatoes, olives and artichokes. You can serve these dips individually, or combined into one beautiful fall-inspired platter.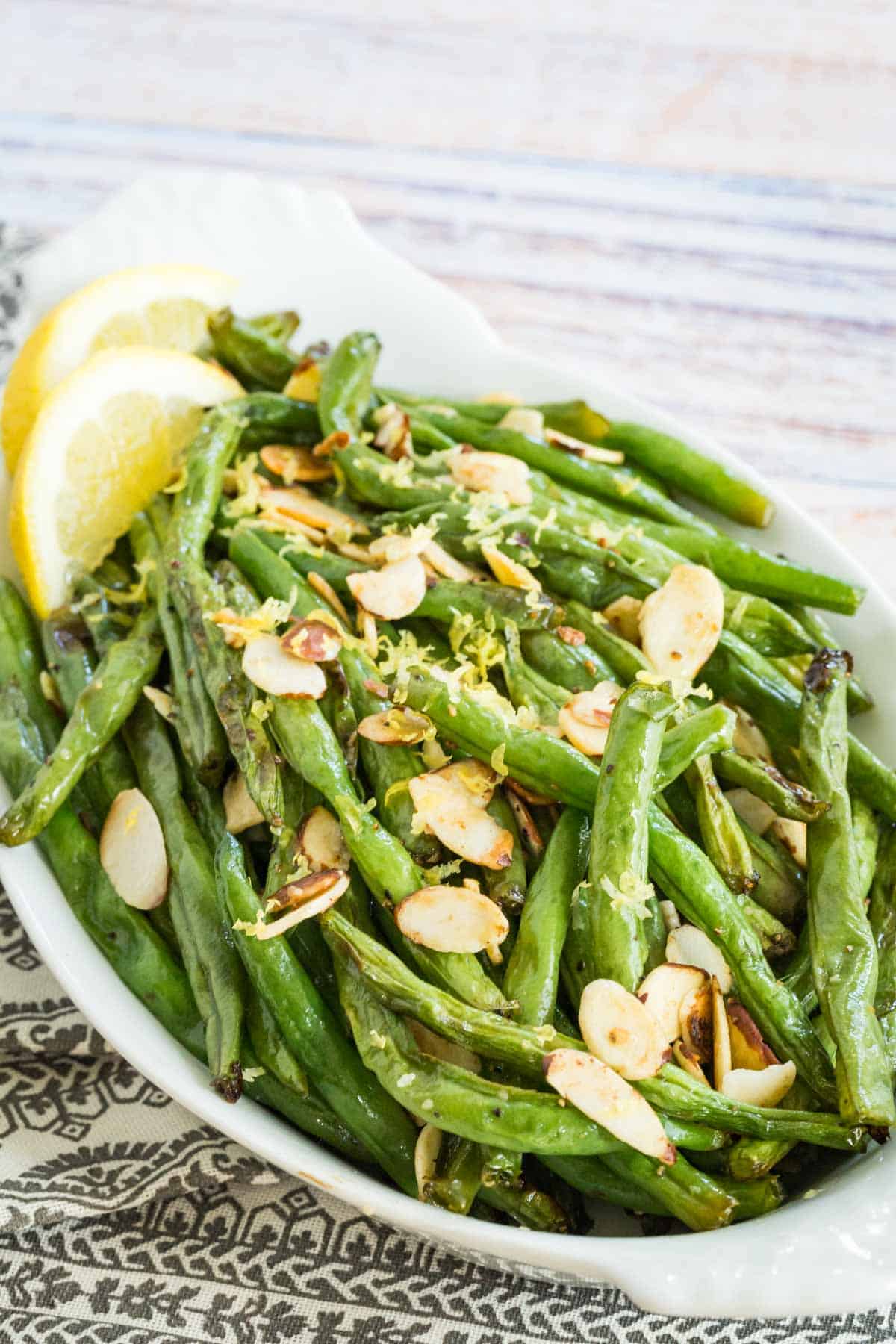 Air Fryer Green Beans and Almonds GF | Cupcakes & Kale Chips
A fast 20-minute vegan and gluten free side dish perfect for your holiday menu because you can make it in your air fryer and save space in the oven! Enjoy them served simply roasted or topped with toasted almonds and lemon juice.
Crispy Air Fryer Asparagus GF | Cupcakes & Kale Chips
Fresh tender asparagus spears crisp up quickly and easily thanks to an air fryer – as a result, this is a simple veggie side dish that lets the natural flavor of the asparagus shine through!
Ginger Lime Brussels Sprouts GF | spabettie
Pan fried or oven roasted, these Brussels sprouts with lime and ginger are a holiday game changer! This recipe blends zesty lime and bright ginger with sweet maple syrup in a delicious vegan dressing for the sprouts.
Gingerbread Sweet Potatoes | Healthy Slow Cooking
A festive vegan recipe for sweet potatoes made with cranberries, pears, and topped with a spicy gingerbread cookie crumb. You need to try this original combo of flavors and textures at your next Christmas or Thanksgiving meal!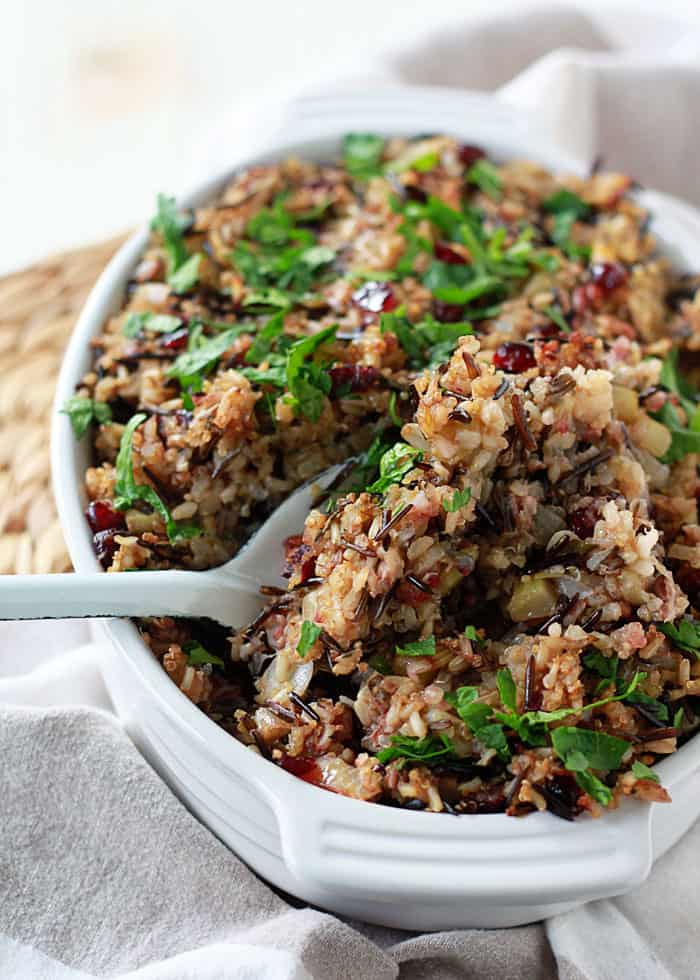 Herbed Wild Rice & Quinoa Stuffing GF | Kitchen Treaty
One of the best vegan recipes is this easy Thanksgiving stuffing made with hearty wild rice, nutritious quinoa, juicy apples and crunchy pecans, plus fresh herbs! The perfect flavorful vegan stuffing recipe for those who go without the turkey.
Orange-Spiked Beet & Walnut Spread GF | Farm Fresh Feasts
There's really nothing better than a tasty vegan spread made with fresh ingredients! This one is perfect for spreading over vegetables, vegan crackers, or anything else you and your guests desire. Bright roasted beets and toasted walnuts with a dash of orange citrus give this spread a lovely and satisfying earthy flavor.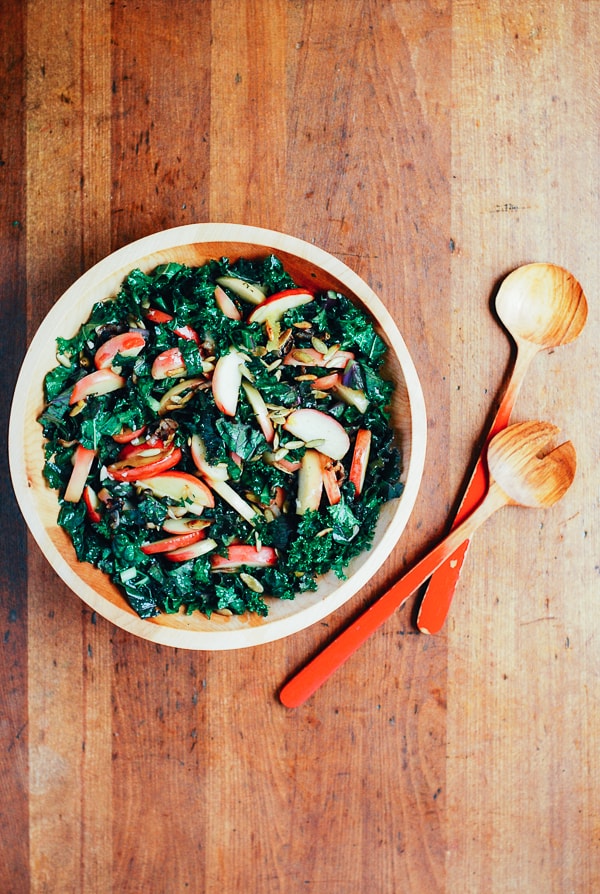 Kale Salad with Sautéed Apples GF | Brooklyn Supper
From Thanksgiving to Christmas and beyond, this is such a perfect holiday salad. With nutrient-rich kale and sweet sautéed apples, it's a flavor combination made in veggie heaven! Not to mention, the red and green color palette is super festive.
Persian Jeweled Rice GF | The View from Great Island
Persian Jeweled Rice is really a celebration in itself, made with a savory rice pilaf and topped with gorgeous, jewel-like fruits and nuts. Plus, the colors and flavors of this easy dish make it a wonderful vegan holiday recipe!
Pesto Roasted Carrot Fries GF | Overtime Cook
Two delicious and fresh ingredients – carrots and pesto – come together quickly in this easy side dish that's simple, tasty, and flavorful. Easy to make and easy to eat, these carrots are a delicious vegan recipe to enjoy with holiday meals!
Quinoa Salad with Pecans & Cranberries GF | fannetastic food
A hearty and healthy quinoa salad packed with pecans and cranberries is a favorite for the holidays! This is perfect for serving as a satisfying, quick side dish alongside all your other Thanksgiving and Christmas dishes.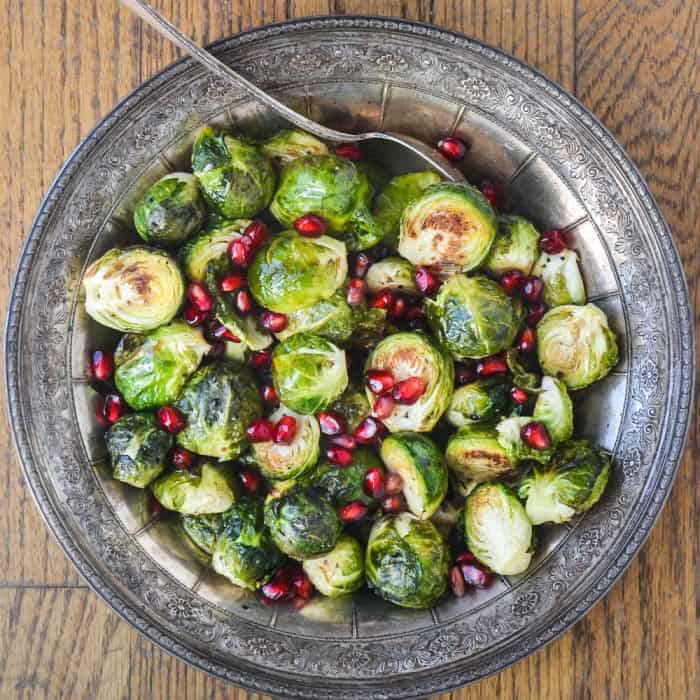 Roasted Brussels Sprouts with Pomegranate GF | The View from Great Island
A new spin on Brussels sprouts, sure to brighten up your holiday table. This is a delicious vegan recipe featuring Brussels sprouts and flavorful pomegranate that was made for festive dinners!
Roasted Cauliflower GF | Cupcakes & Kale Chips
Sometimes it's nice to bring out the basics; and this recipe for roasted cauliflower is a classic! Vegan-friendly and perfect to whip up for any occasion throughout the holidays.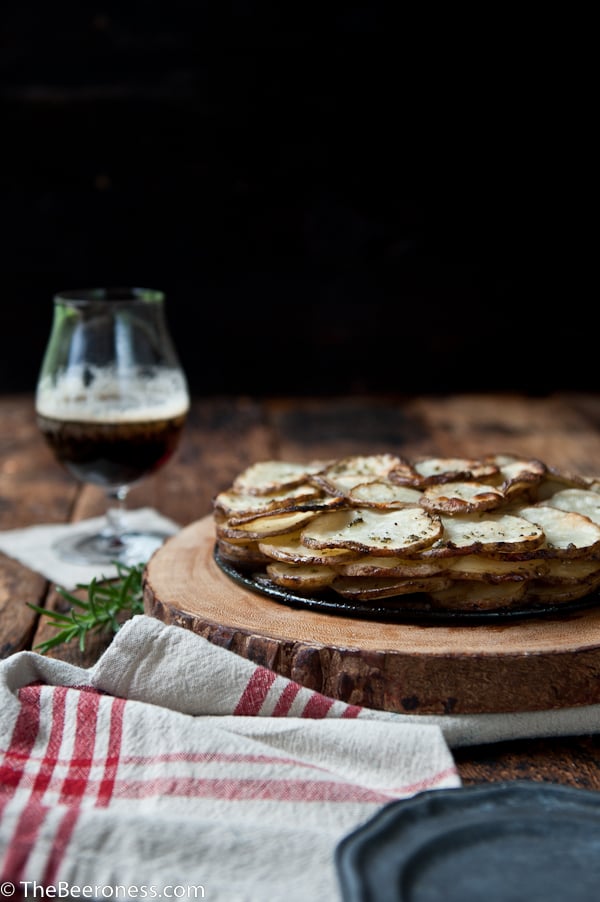 Rosemary Potato Brown Ale Galette | The Beeroness
You need to try this easy recipe for a rustic potato galette made with a special ingredient – beer! Layers of rich rosemary roasted potatoes saturated in brown ale make for an impressive and unique vegan potato side dish. Even better, it looks beautiful presented on a plate!
Maple Roasted Brussels Sprouts and Butternut Squash GF | Cupcakes & Kale Chips
Only four ingredients and a nice, hot oven enhance the natural sweetness of the squash and give the sprouts a perfect, caramelized flavor. The gorgeous colors make this a lovely addition to any holiday menu.
Slow Cooker Pumpkin Baked Beans GF | Kitchen Treaty
Classic slow cooker baked beans get a new fall twist with this tasty recipe that basically cooks itself. There isn't a doubt that these easy pumpkin baked beans make a great vegan addition to your holiday table!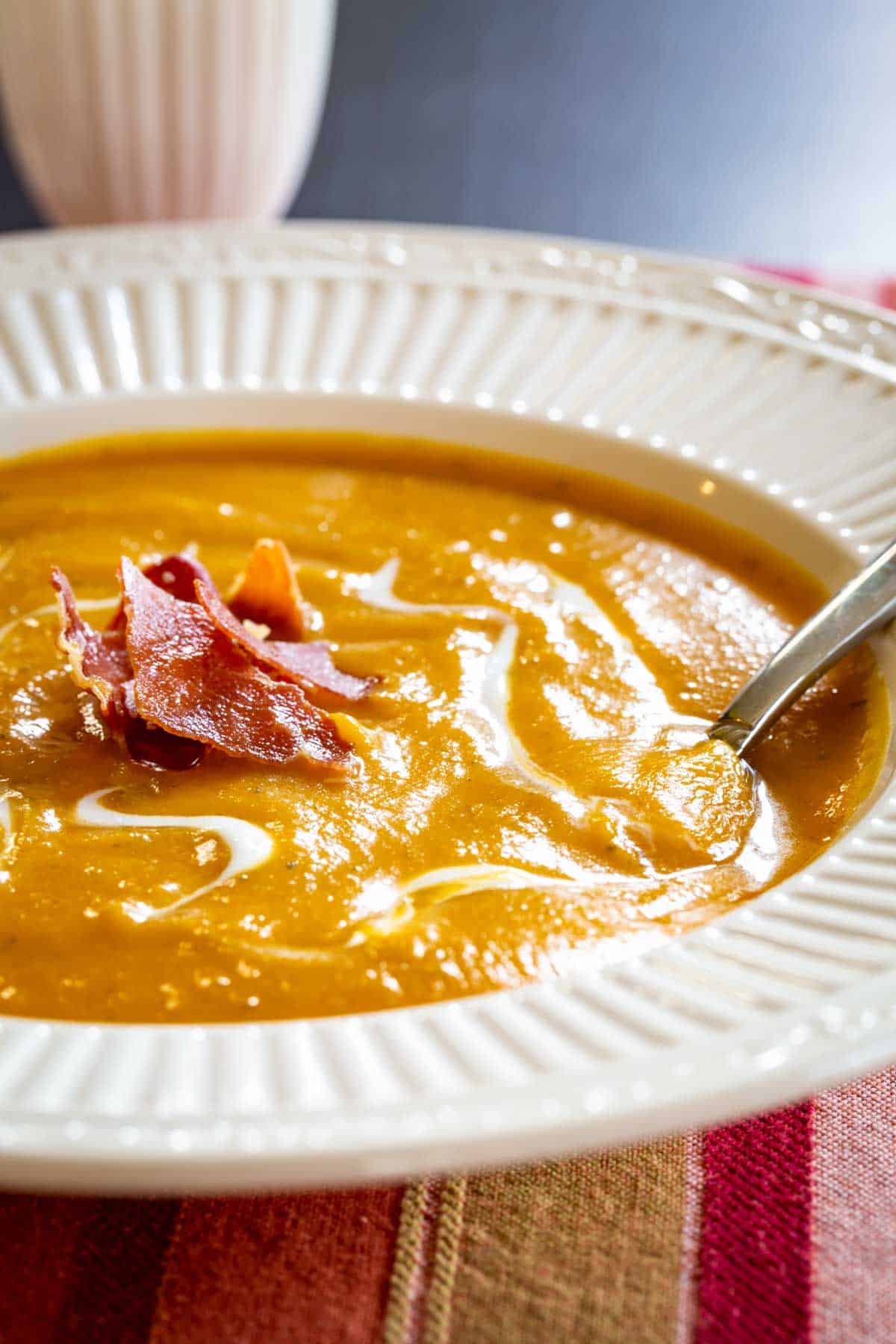 Butternut Squash Soup with Sage and Thyme GF | Cupcakes & Kale Chips
This is a simple and delicious recipe for velvety and smooth butternut squash soup. A base of fresh veggies means that it can easily be adapted for vegan guests, for a perfect winter soup to serve as a starter, or as a Thanksgiving dinner side dish!
Tahini Mashed Sweet Potatoes with Fried Sage Leaves GF | What Jew Wanna Eat
These are the best creamy mashed sweet potatoes, and they skip the butter! Rich tahini and crispy fried sage bring an extra layer of fall flavor to this easy vegan mashed potatoes recipe. Vegan and non-vegan alike, dinner guests will love this delicious side!
The Ultimate Vegan Green Bean Casserole GFO | Everyday Maven
It wouldn't be the holidays without a recipe for green bean casserole – and this is the perfect vegan-friendly variation! This recipe has all the beloved creamy mushroom flavor of the classic Thanksgiving dish, with a delicious and healthy twist.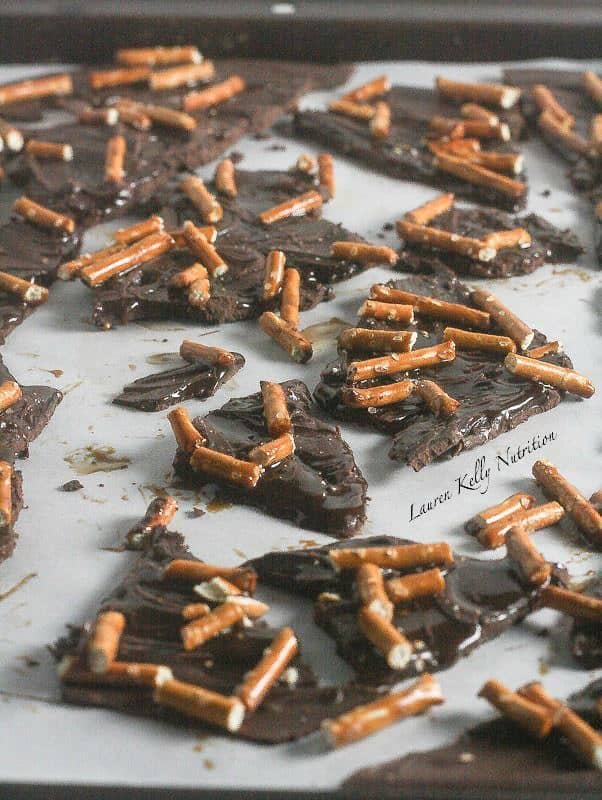 Dark Chocolate Salted Caramel Pretzel Bark GFO | Cupcakes & Kale Chips
For those with a sweet tooth, this is a delicious and easy chocolate bark recipe made with vegan chocolate, salted caramel and crunchy pretzels! It's a great vegan dessert for serving and gifting this season.
Quinoa Pilaf with Roasted Asparagus and Mushrooms GF | Cupcakes & Kale Chips
Quinoa is a tasty superfood that has so many uses! For a hearty holiday dish that's packed with nutritious ingredients, try out this recipe for vegan pilaf filled with roasted asparagus and mushrooms.
Warm Farro Salad with Roasted Delicata Squash | The Domestic Front
Hearty farro grains are the perfect base for this delicious salad made even better with roasted squash, toasted pine nuts, pomegranate seeds and fresh parsley. Not only delicious, but beautiful looking on a dinner table!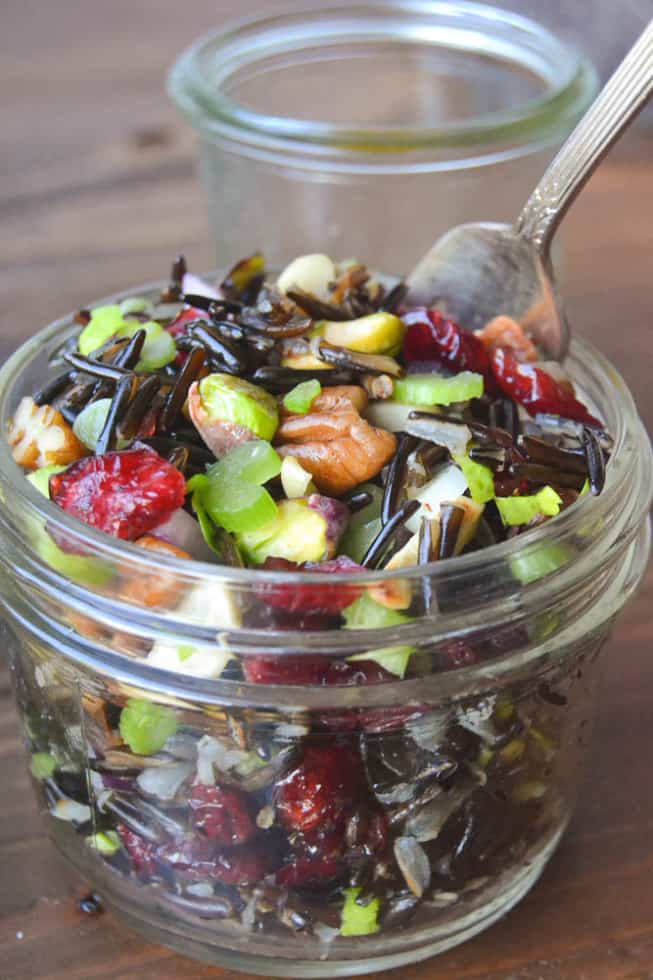 Wild Rice Salad with Cranberries & Nuts GF | The View from Great Island
Another easy salad recipe, this time loaded with wild rice, cranberries and a festive medley of pecans, cashews and pistachios. Not only pretty to look at, but full of flavor and great for feeding a crowd!
Pumpkin Energy Balls with Chocolate Chips GF | Cupcakes & Kale Chips
Sweet dates and warm pumpkin pie spice give these easy holiday date balls the perfect balance of fall flavors, plus the addition of pumpkin puree. Moreover, as a no-bake energy ball recipe, these require none of the valuable space in your oven!