This post may contain affiliate links. Read my disclosure policy.
The Big and the Small, We Got Through it All… Reflections on 10 Years of Marriage.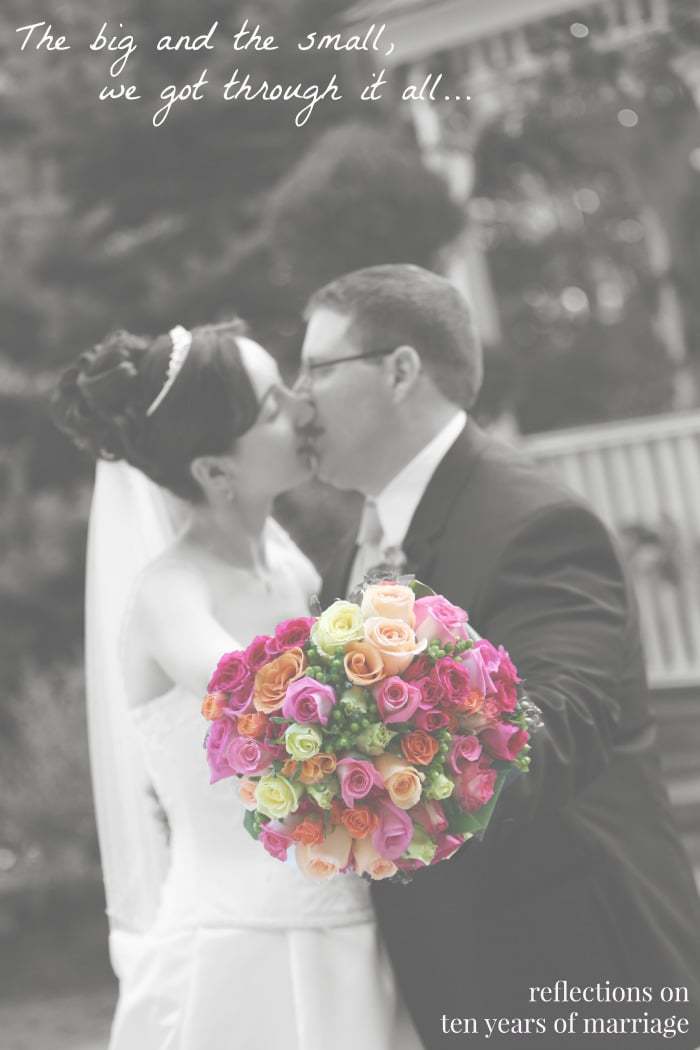 From the outside, it looks like we have it pretty good. And we do. Two kids that are healthy and fairly happy as long as we give them the right balance of enough of our attention and enough time to watch television. We live quite comfortably and get to do many of the things we want to do. We can pay the bills to make sure we all continue to stay healthy. Our kids are learning and growing and despite our mistakes along the way still seem to think we are doing an okay job. We know we have each other.
And yet I feel like I'm oftentimes complaining about things going wrong in our lives. Honestly, we are two people who have had to work for everything that we have. While we certainly didn't have it as rough as some people, even from childhood we've both had to endure some challenges and road blocks. For some reason, to this day that continues. Little thing after little thing after little thing, and after awhile, those little things can overwhelm.
But I think that the fact that we continue to endure, manage, and overcome all of life's little obstacle on a seemingly day-to-day basis is what cements our bond to each other. No, we aren't the most sappily romantic couple. We are fairly serious. But you are my rock, the only way I can figure out how to maneuver through everything life throws at us. And out of every bad thing comes something amazing. Either a new chapter of our life or a deepening of our relationship. We fight through. And having to make it through all of these fights may have hardened us a bit – we aren't the same smiley, giggly, silly couple we once were. But everyday I know I just have to turn to you to get my hug. Every day I know you are doing everything in your power to support your family in every way possible. And every day I know that even when things seem the hardest, at the end we are going to come through it together.
Remember when my boss was almost apologetic when he told me that I was assigned to work for you on my pilot plant rotation?
The big and the small, we got through it all and actually built a solid respect and trust in one another that formed the foundation of our relationship before we ever knew we would have one beyond professional.
Remember when you left that card on my windshield, opening up a side that you rarely showed to anyone, and I just wasn't there?
The big and the small, we got through it all and you showed the perfect balance of patience and persistence until I was realized my feelings were the same as yours.
Remember when a ten year age difference seemed like a lot, even if i was only because of others' perceptions and not our own feelings?
The big and the small, we got through it all and it really never mattered to us.
Remember when we sat in the ice cream shop and at that moment I was ready to give it a go, but not ready to tell anyone?
The big and the small, we got through it all and it didn't take long before we both wanted to tell the world about our joy in being together.
Remember when I was in England for two months and the time zone difference meant I kept calling at weird times, including when you were in New York City shopping for an engagement ring?
The big and the small, we got through it all and on the bridge between New Hope and Lambertville you asked me to be your wife, and there was no way to be more emphatic in my "YES!"
Remember when your professional world, the thing that mattered more to you than anything else up until there was an "us" got turned upside down just months before our wedding, and you just didn't know if you could stay?
The big and the small, we got through it all and you knew that by making the chpice to be together we could figure out anything that came after.
Remember when our travel agent messed up in booking all of our activities for our honeymoon?
The big and the small, we got through it all we had out first real experience of figuring it all out, solving the problems, and making it even better than we originally thought it would be.
Remember when, just months after our wedding you found out your dad had cancer, in our first year of marriage you had to go stay with him for an extended time, and just days before our first anniversary he passed away?
The big and the small, we got through it all you got the closure you needed while we proved that we would support each other even when someone else needed us more than we needed each other at that moment.
Remember all the vacations where bad weather seemed to follow us – the tropical storm during the beach half of our first trip together to Charleston, the unseasonably cold spring in Napa, the coldest cold snap to hit Florida in fifty years, the wettest April in the memory of everyone we met in Tuscany, the "hot even for Vegas" temperatures, the rain in Vermont when we had a newborn in a one bedroom condo with my parents, and whatever else I am missing?
The big and the small, we got through it all and despite Mother Nature not being our best friend, we had some incredible experiences together that we can't even completely put into words.
Remember when we were leaving for Tuscany and I just knew the day before our flight was the last time I'd see my grandma, and then I received that phone call I knew was coming in the middle of an Italian piazza?
The big and the small, we got through it all and we once again showed that we can
improvise, adapt, overcome" and we made it home a bit early so I could be with my family when we needed to be together.
Remember when we were ready to have a baby, but my body didn't seem to agree? Remember that Sunday morning meeting the doctor in his empty office for a hormone shot? Remember going through it all over again and it being even harder the second time?
The big and the small, we got through it all and the two biggest miracles came into our lives in two of the most amazing moments that two people could ever experience together.
Remember the infant days that were the biggest mix of the hardest times in our lives and the most joyous?
The big and the small, we got through it all and we survived. now we have two little boys who, though they give us a run for our money and bring us some of our most trying time and our biggest stress also bring us those moments of joy that outshine any times of darkness.
Remember when you found out that your department was being phased out, and after all that time with the same company you just knew it was time to move on? Remember when that meant I had to move away from the only home I had ever known? Remember when that meant leaving the house that I never even wanted to live in, but had become the home where we started our family?
The big and the small, we got through it all and we pulled ourselves together, made our house look amazing, sold it in record time, and found a house that meets any and every want and need we could ever have. The location is still throwing us for a loop, but we are dealing with that too.
And now we are at a point where some new challenges lie ahead. Some scary things we are dealing with. It means a lot of uncertainty, a lot of coordinating schedules, a lot of questions, a lot of decisions, a lot of asking for help when we are used to managing things on our own. But we can do it because…
The big and the small, we got through it all. That's what we've done for the first ten years of our marriage, and I know that's what we will continue to do.
And it's funny because as I was writing this, I kept thinking that there was more stuff thrown at us. More stuff to deal with. More stuff to overcome. And yet I can't remember. Even the things I mentioned I barely remember the details. I think this only proves that the bad times tend to fade into background noise, and that you don't have to be the most lovey dovey couple to be the most in love. Sometimes the deepest love is built on overcoming the challenges of life. And some times there are moment of pure joy that are what they are, not something that came from working through the hard times.
Times like when we took our first soak in our old hot tub. Times like going to listen to live music – everyone from Sting or Eric Clapton to John Myer or Susan Tedeschi or any one of countless local unknown bands that just rocked. Times like those wine tasting classes we took together. Times like our wedding day that was so perfect I wish I could relive it. Times when you hear one of the kids crying in the middle of the night and take care of them before I even wake up. Times like when we go to the park or have a fun dinner out together as a family. Times when you take care of the kids so I can travel for the weekend, even though its "for work" but my work tends to be a lot of fun. Times like this cruise we are on for our tenth anniversary.
I don't say the words enough and often I don't feel my actions show you well enough, but…
The big and the small, we got through it all, and I will continue to love you to the end of days.