Gluten-Free Pumpkin Swirl Pecan Crumb Cake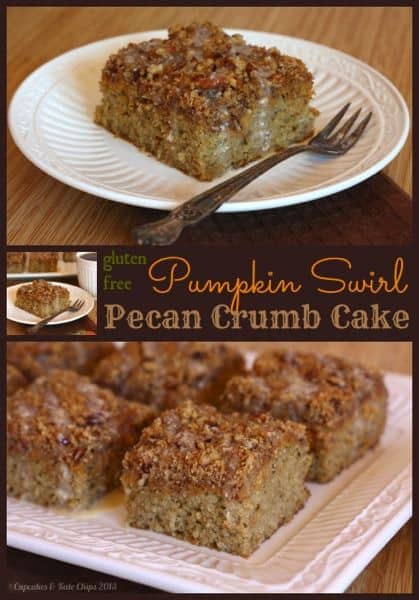 Recipe type:
Breakfast, Brunch, Dessert
1/4 c pumpkin puree (not pie filling)
2 oz. regular or light cream cheese, softened to room temperature
1 egg yolk
2 T light brown sugar
1/2 t vanilla
1/2 t pumpkin pie spice
1 1/4 c almond flour
1/4 c oat flour (just place instant or old-fashioned oats in a food processor and pulse until it forms a flour)
3 T coconut flour
1/8 t salt
1/3 c light brown sugar, firmly packed
2 T canola or vegetable oil
2 T Greek yogurt
1/2 cup chopped pecans
1/2 t baking soda
1/2 t baking powder
2 large eggs
1 t vanilla extract
1/2 cup milk (I used almond milk)
1 oz. cream cheese, softened to room temperature
2 T maple syrup
Combine the ingredients in a bowl and whisk until smooth. Set aside.
Grease an 8"x8" baking pan or line with parchment paper.
Preheat oven to 325°F.
In the bowl of a food processor, pulse together the almond flour, oat flour, coconut flour, salt, 1 t pumpkin pie spice, and brown sugar until combined.
Add the oil and Greek yogurt, and and pulse until well combined.
Transfer this mixture to a large bowl and set aside.
For the topping, return 1/2 c of the flour mixture to the food processor.
Add the pecans and additional 1 t pumpkin pie spice, and pulse a couple of times to combine and form loose crumbs.
To the reserved dry mixture, stir in the the baking soda and baking powder.
Add the eggs, vanilla and milk and stir until smooth.
Pour batter into the prepared pan.
Drop and drizzle small spoonfuls of the reserved pumpkin mixture across the top of the batter.
Sprinkle the pecan crumb mixture evenly over the top of the batter.
Bake for 40-45 minutes. A toothpick inserted in the middle should come out clean (perhaps only a little of the pumpkin mixture on it, but not cake batter) and it will not jiggle in the middle.
Cool the cake completely, and drizzle with the maple cream cheese drizzle, if desired, or another glaze, or just sprinkle with powdered sugar.
Store the cake, covered, in the refrigerator for up to 4 days.
Blend together the maple syrup and cream cheese. I like to throw it in the fridge to thicken up a bit before using. Also, if your cream cheese gives you a hard time and won't make a smooth glaze, you can press the mixture through a fine mesh sieve several times.
Recipe by
Cupcakes & Kale Chips
at http://cupcakesandkalechips.com/2013/09/22/glutenfree-pumpkin-swirl-pecan-crumb-cake-sundaysupper-fall-foods/