Banana Nutella Swirl Gelato for Global Street Food #SundaySupper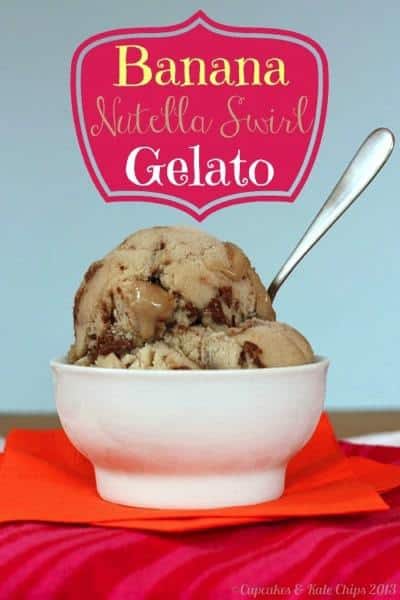 Recipe type:
Dessert, Frozen Dessert
About 1 lb, or about 3 large, very ripe banana (about 2-2 1/4 c after pureeing)
1/3 c light brown sugar
2/3 c milk (I used 2%, but have not tried other milks)
2 T rum
2 t vanilla extract
1/3 c Nutella
Peel bananas, and place in food processor. Puree until smooth.
Add brown sugar, milk, rum, and vanlla extract. Process until thoroughly incorporated, scraping down the sides or breaking up chunks of bronw sugar, as necessary.
Pour the mixture into an ice cream machine, and churn according to machine's instructions.
Transfer to a freezer-safe container, place small dollops of Nutella on top of the gelato mixture, and swirls with a butter knife.
Place in freezer for several hours, or until frozen thoroughly.
Recipe by
Cupcakes & Kale Chips
at http://cupcakesandkalechips.com/2013/08/25/banana-nutella-swirl-gelato-for-global-street-food-sundaysupper/