Bacon, Pear & Smoked Gouda Panini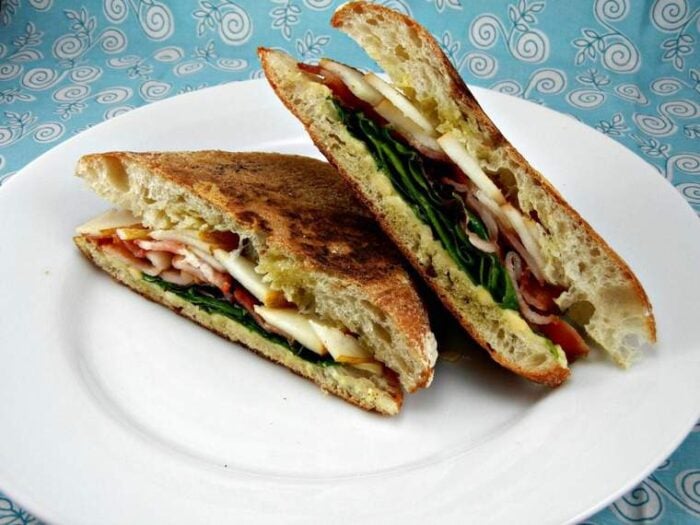 Serves:
2 hearty sandwiches
¼ cup extra virgin olive oil
2 garlic cloves, minced
4 slices of your favorite artisan bread, such as ciabatta
8 slices of bacon, cooked
1 pear, thinly sliced
¼ cup shredded smoked gouda
½ cup baby arugula
To make Garlic Oil – In a small sauce pan, add olive oil & garlic. Bring it up to a boil and remove from heat. Let the garlic sit for 10 minutes. The garlic can be strained or just leave it. It's up to you!
On the ciabatta bread, spread the garlic oil on both sides. Start to layer the sandwich by adding bacon, pear slices, smoked gouda and baby arugula. Top with the other piece of bread and place in a preheated skillet or grill pan. (Or a panini machine if you have one!) I put my cast iron skillet on top of the sandwich so it would press the sandwich.
On a medium-low heat, cook the sandwich until cheese is fully melted; 3 to 5 minutes per side. Serve immediately while cheese is still warm.
Recipe by
Cupcakes & Kale Chips
at http://cupcakesandkalechips.com/2013/03/28/bacon-pear-smoked-gouda-panini-guest-post-from-the-tasty-fork/