Hi, it's The Bug, and it's time for some Friday Fun! Since this is what Mommy usually deals with at mealtime…
We let her out this week for a nice meal. She attended the media dinner at a new location of Seasons 52 here in New Jersey, so I'm going to turn things over to her this week to tell you about it…
As soon as I saw the menu, I was excited about what was to come…
First we started with a sample of one of their menu staples – the flatbreads. A super thin and crispy crust was topped with a classic combination of Blackened Steak & Blue Cheese with mushrooms, but the Lobster & Fresh Mozzarella freshened up by a lobster sour cream blew me away…
The Lump Crab and Haas Avocado amuse was a perfect way to kick start my palette with just a hint of spice…
My favorite course came early in the evening. I'm not the biggest seafood fan, but the Lemon & Herb Roasted Branzino and Caramelized Sea Scallop so fresh with a slight smoky infusion from roasting on a cedar plank. And the accompanying seasonal vegetables were perfectly cooked…
The Baby Spinach Salad was a well-executed version of a type of salad you see on many menus, with the standard walnuts and Gorgonzola, but made more interesting and special by replacing the usual sliced pears with caramelized, roasted Bosc pear…
My love of goat cheese naturally made me adore the Sonoma Goat Cheese Ravioli. Serving with just a simple roasted onion jus really let the tangy goat cheese shine…
The final savory course was a true showstopper with an Oak-Grilled Lobster Tail and New Zealand Venison Chop atop some luscious truffle mashed potatoes…
Dessert is an amazing experience at Seasons 52. Instead of trying to save calories by offering boring old sorbets or fruit, they decided to keep the decadence and scale down the portion size (and price) by offering a selection of Mini Indulgence Desserts…
The Chocolate and Peanut Butter Mousse was simply heavenly, and the Cannoli Cream was rich but without being too heavy from the addition of mascarpone cheese…
Seasons 52 has locations around the country, so if you have one near you, give it a try. I would like to thank our amazing server Jason for perfectly pacing our meal, being so friendly and knowledgable about the company, the food and the wine, and for all of his interesting stories and random wine trivia. Also, thanks to Kelly and Nikki for your hospitality and for giving us the opportunity to see the gorgeous restaurant with its warm, stylish decor, and to taste the amazing menu.
Disclaimer: I was invited to the Media Dinner at Seasons 52. All food and drinks were provided at no cost, but, as always, all opinions are my own.
Now, back to The Bug…
If you want to see more cute photos of me and the little guy, plus whatever mommy is cooking up in the kitchen, check out her Instagram. And make sure you follow her on bloglovin', or enter your email address in that box on the right, so that you never miss any new recipes, reviews, and giveaways that are coming up.
Speaking of Giveaways, first up is the Slow Cookin' Giveaway that will be going on through the Big Game on Sunday!
And the $500 CASH you can win for Becca's Birthday Giveaway!
OK, Mommy's turn..
Something I love and made this week – Roasted Butternut Squash (on my Yummy Eats Board)
Something I love and and am just swooning over – Overnight Chocolate French Toast from Roxana Bakes (on my OMG Food Board)
Something I love and want to bake - Chocolate Peanut Butter Banana Bread from i heart eating  (on my Chocolate & Peanut Butter Obsession Board)
Something I love and want to cook - Roasted Red Pepper, Tomato and Bacon Soup from The Girl in the Little Red Kitchen (on my Soup and Stew Inspiration Board)

Something I love and want to drink – Conversation Heart Cocoa from Smart School House (on my Drinks & Smoothies Inspiration Board)
Something I love and want to snack on – Buffalo Chicken Nachos from A Family Feast (on my Healthy Treat Inspiration Board)
What are your "Somethings"?  Leave me some links in the comments!
And if you want to see more of my "Somethings", follow me on Pinterest.
Last week, the five most popular recipes were:
#5 – Slow Cooker Salsa Chicken & Black Beans
#3 – Bourbon Pecan Chocolate Popcorn
#2 – Sesame Glazed Cauliflower Wings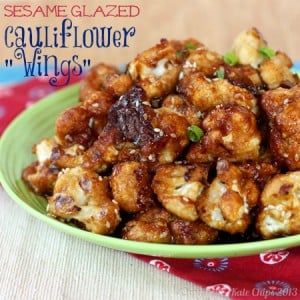 #1 – Baked Cauli-Tots
This week, well…
I went all gourmet on game day eats…
I hosted a party (don't forget about the Slow Cookin' Giveaway)…
I told you why I'm a little crazy…
And I wished a friend a happy birthday (and told you how you could win a present – $150!)…
Next week is a big party:
Sunday – #SundaySupper is getting you prepared for any game day gatherings, and I have a recipe you can eve throw together for THE Big Game!
Monday – An announcement
Tuesday – I'm hoping for a Valentine's Day treat or snack, but not sure yet.
Thursday – Definitely a Valentine's Day treat.
Friday – Friday Fun!
Have an awesome weekend!  As I said earlier, I'd love to see links to your "Somethings", so leave 'em in the comments!