Have you met the amazing Joan of Chocolate, Chocolate and More?!  She is one of the sweetest bloggers I have met, always teaching, helping, and sharing other bloggers.  All while she is busy taking care of her family and making fabulous things like Chocolate Babka, Cake Batter Fudge, and Cream Cheese Bacon Bites. Well, she is celebrating her birthday, and a bunch of her friends are getting together to give YOU the gifts in Joan's HUGE Birthday Giveway!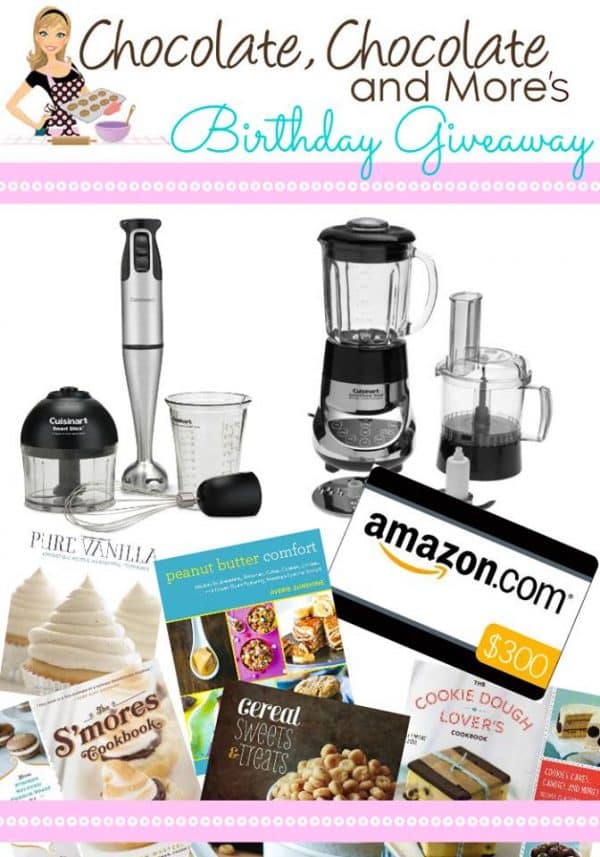 This prize package will go to one lucky reader
and includes
Cuisinart Smart Power Duet Food Processor/Blender
Cuisinart Smart Stick Immersion Blender with attachments
These 5 cookbooks-
The Smores Cookbook by Susan Whetzel
Pure Vanilla by Shana Sever
Cereal, Sweets and Treats by Jessica Segarra
Peanut Butter Comfort by Averie Sunshine
The Cookie Dough Lovers by Lindsay Landis
AND $300 Amazon Gift Certificate
Entering is easy, just use the Rafflecopter
Make sure you stop by to wish Joan a Happy Birthday on
Facebook
or
Google+
, and check out all of these lovely ladies who are helping her celebrate!!!

Want to see lots more yummy food from me and my friends, and cute pictures of my kids?
Follow me! 
Or have Cupcakes & Kale Chips delivered to your Inbox by entering your email in the box on the left sidebar.
Disclosure: This post may contain affiliate links, which means I earn a small percentage from any purchases you may make if you click on them.  These companies have not contacted me.  I only use the stuff because I love it.)
If you like this post, you'll love these: