WINNER WINNER Cooking Planit Dinner!!  Congratulations to…
Allison
who blogs over at
But we are all winners with the tasty recipes from Cooking Planit, like the ones I made:
Easy Beef Tacos and Spaghetti Squash with Salsa & Queso Fresco
Bacon Corn Pesto Pasta and Roasted Broccoli with Parmesan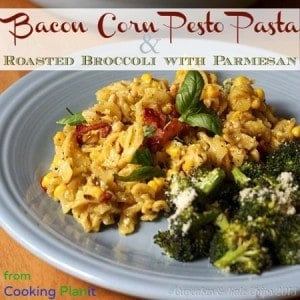 And if you didn't win my giveaway, guess what – you still have time!  Giveaways are still going on for another couple weeks on these blogs:

Want to see lots more yummy food from me and my friends, and cute pictures of my kids?
Follow me! 
Or have Cupcakes & Kale Chips delivered to your Inbox by entering your email in the box on the left sidebar.
Disclosure: This post may contain affiliate links, which means I earn a small percentage from any purchases you may make if you click on them.  These companies have not contacted me.  I only use the stuff because I love it.)
If you like this post, you'll love these: